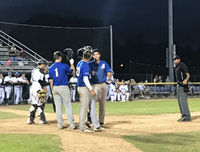 UTICA, N.Y.- Golston Gillespie (Ole Miss) went 4-for-6 with a pair of two-run home runs as the Albany Dutchmen (6-2) defeated the Utica Blue Sox (4-6), 11-2, in PGCBL action on Tuesday.
Gillespie's home runs, his first and second of the season, came in the eighth and ninth inning, respectively. Both of them were two-run shots. He also had one of the Dutchmen's six stolen bases on the evening.
Deaven Phillips (Tampa) pitched five innings to earn the win for the Dutchmen. He allowed two runs, one earned, on three hits, with a walk and a strikeout. Nick Grabek (Fairfield) tossed the final four innings of one-hit shutout relief. He walked one batter and had four strikeouts.
Albany took the lead in the second when Jerry Huntzinger (Seton Hall) singled and came around to score on the strength of two Blue Sox errors. The Dutchmen added another in the fourth when Brandon Seltzer (Palm Beach Atlantic) hit an RBI single.
Seltzer finished 2-for-5 with two RBI, a stolen base, and a run scored. Huntzinger was 2-for-5 with two runs scored and a stolen base.
Utica tied it at two in the bottom of the fourth on a Neiko Ramos (Siena) two-run double.
The Dutchmen got them both back in the fifth when Ubaldo Lopez (Dartmouth) walked and later scored on a wild pitch before Griffen Herrera (Azusa Pacific) hit an RBI single one pitch later.
Jacob Randolph (Central Alabama CC) started and took the loss for Utica. He pitched four innings and allowed three runs, two earned, on seven hits. He surrendered four walks and had five strikeouts.
Cameron Collett (Marshall) was 2-for-3 with a pair of walks and a run scored, while the defending Spotlight Player of the Week recipient Cameron Masterman (Louisville) was 2-for-4 with two walks, an RBI, a stolen base, and two runs. Herrera finished 2-for-4 with an RBI and a stolen base.
Khalyd Cox (Savannah State) was 2-for-3 for the Blue Sox with two doubles.
The Dutchmen scored three in the eighth and four in the ninth, both innings highlighted by a Gillespie two-run homer.
The Dutchmen will be back in action on a busy Wednesday in the Capital District. They will face the Tri-City ValleyCats at 10:00 a.m. in an exhibition game at Joseph L. Bruno Stadium before returning home to Connors Park to play the Newark Pilots at 5:05.