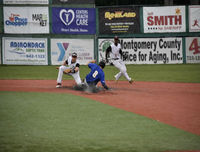 AMSTERDAM, N.Y.- The Amsterdam Mohawks (5-5) hit six extra base hits, including two home runs, en route to defeating the Albany Dutchmen (6-3), 9-3, in PGCBL action on Thursday.
The teams played scoreless until the bottom of the third when Michael Ludowig (Wake Forest) hit a three-run home run.
In the fourth inning, Cole Barr (Indiana) hit a one-out double before coming around to score on a misplayed ball in the outfield after Toby Welk (Penn State Berks) singled.
Welk finished 2-for-3 with 2 RBI and a walk. Elvis Peralta was 3-for-4 with two doubles and a run scored. The duo, who hit eighth and ninth, respectively, combined for a 5-for-7 clip on the evening.
The Dutchmen pulled it to within two in the sixth when Griffen Herrera (Azusa Pacific) hit a two-run single to score Cameron Masterman (Louisville) and Jerry Huntzinger (Seton Hall).
Amsterdam regained the four-run cushion in the bottom half of the inning on a Welk two-run double.
In the seventh, Sam Praytor (Alabama) smacked a two-run home run to extend the lead to six before Mike Antico (St. John's) scored on a wild pitch later in the frame for Amsterdam's final run.
Nick Artymowicz (Southern New Hampshire) started and took the loss for the Dutchmen. He went three and a third innings and allowed four runs, three earned, on five hits. He surrendered a walk and registered one strikeout. Dalton Harvey (Illinois State) had four strikeouts in one and two thirds innings of one-hit, shutout relief.
Zach Durant (Herkimer CC) started and earned the win for the Mohawks. He pitched seven and a third innings and allowed three runs on seven hits with four walks and six strikeouts. Brooks Knapek (Mass) pitched the final inning and two thirds of one-hit relief.
Albany picked up a run in the eighth after back-to-back doubles by Ubaldo Lopez (Dartmouth) and Masterman.
Lopez finished 2-for-4 with a run and a walk. Both of his hits were doubles.
The Dutchmen will travel to Saugerties to take on the Stallions on Friday at 7:05 before returning home on Saturday for the ladder end of a home-and-home series with Saugerties at 5:05. Saturday will be CDTA Kids in Free Night in which all kids 14 and younger receive free admission with a paid adult.