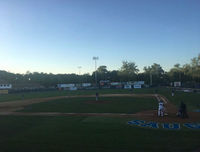 SAUGERTIES, N.Y. - The Albany Dutchmen (7-3) offense produced 13 hits in their 9-1 win over the Saugerties Stallions (4-8) in PGCBL play on Friday night. Four of those Thirteen hits came off the bat of catcher, Jerry Huntzinger (Seton Hall).
Huntzinger was 4-for-5 with two runs scored and an RBI. Cole McNamee (Wake Forest) had two hits in four at-bats, and drove in a run. Cameron Masterman (Louisville) also had a multi-hit day going 2-for-4 with two runs scored and an RBI.
After reaching on a single in the fourth inning, Griffen Herrera (Azusa Pacific) was able to score the game's first run on a Huntzinger double to put the Dutchmen up 1-0.
Albany blew the game open in the sixth inning when they brought in five runs, on five hits. Lucas Dunn (Louisville) and Masterman both scored on a Herrera one out double. After Saugerties brought in left hander Ryan Smith (Boston College), a passed ball allowed Herrera to score and Huntzinger to move up to third base. Huntzinger then scored on a McNamee single, and Golston Gillespie (Ole Miss) scored on a Cameron Collett (Marshall) sacrifice fly.
Albany would tack on three more runs in the seventh when Masterman drove in Ubaldo Lopez (Dartmouth), and would later score with Huntzinger on an error by the catcher.
John Dempsey (Wofford College) drove in the only Stallion run on a triple in the sixth inning, driving in Herman Alvarado (Nyack College).
The Dutchmen return home on Saturday to face the Stallions again with first pitch at 5:05 pm. Saturday is also CDTA Kids in Free Night and Special Olympics at Connors Park.