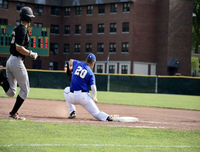 ALBANY, N.Y.- James Gargano (Butler) went 3-for-4 with two doubles and a pair of RBI to lead the Saugerties Stallions (5-8) past the Albany Dutchmen (7-4), by the score of 8-4, on Saturday.
Saugerties scored three runs in the first inning on the strength of three walks and back-to-back singles by Noah Searcy (Georgia Southern) and Cameron Comer (Virginia).
The Stallions added two in the second when Gargano hit a two-run double.
In the fourth, the Dutchmen scored three runs from three consecutive RBI hits by Zach Durfee (Siena), Nick Jacques (Le Moyne), and Cameron Collett (Marshall). Durfee ripped a double deep to left-center to open the scoring for the Dutchmen. It scored Griffen Herrera (Azusa Pacific) from second, but Golston Gillespie (Ole Miss) was out at the plate on the relay throw.
Herrera was 2-for-3 with a walk, a run scored, and two stolen bases. Durfee and Collett each finished 1-for-3 with an RBI and a walk. Justin Wright (St. John's) was 2-for-5 with a run.
Albany pulled to within a run in the fifth after Wright hit a double and scored two batters later on an infield error. Saugerties starter, Zach Strickland (Georgia Southern) induced a line drive double play one batter later to keep the lead.
Strickland earned the win, his second of the season, for Saugerties. He pitched five innings and allowed four runs, three earned, on five hits and three strikeouts. He walked four batters.
Zach Merchant (Southern New Hampshire) started for the Dutchmen and took the loss. He went four innings and allowed five runs on five hits. He walked four batters and registered three strikeouts. Luke Murphy (Vanderbilt) pitched the final two innings and retired all six batters he faced, without the ball leaving the infield.
The Stallions answered with two in the sixth after a pair of singles to lead off the frame came around to score on a wild throw in the infield. The Stallions scored one more in the seventh on a Tyler Kelder (St. Bonaventure) RBI fielder's choice.
John Dempsey (Wofford) finished 1-for-4 with a walk and two runs, while Searcy also scored twice and was 1-for-3.
The Dutchmen will be back home on Sunday to host the Amsterdam Mohawks for Father's Day celebration. All dads receive free admission and are invited on the field for a father/child catch pre-game. First pitch is scheduled for 5:05 pm.
The Stallions will return home on Sunday to play the Oneonta Outlaws at 7:05 pm.