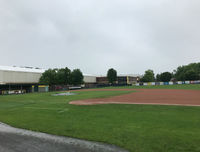 ALBANY, N.Y.- Today's game (Saturday, June 23rd) at home against the Amsterdam Mohawks has been postponed due to rain.
Today's game will be rescheduled as part of a double header (two seven-inning games) on Sunday, July 8th at Connors Park at Siena College. Game one will begin at 3:00 pm.
The Dutchmen are scheduled to play at home on Sunday (June 24th) at 5:05 pm against the Oneonta Outlaws for SEFCU Hometown Heroes Night.
The Amsterdam Mohawks will play at home on Sunday at 6:35 pm at Shuttleworth Park against the Saugerties Stallions.