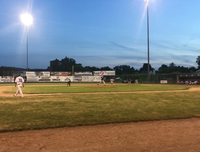 ELMIRA, N.Y.- Three Pioneers pitchers combined to limit the Dutchmen to a single second-inning run on three hits as the Elmira Pioneers (7-14) defeated the Albany Dutchmen (9-8), 3-1, on Tuesday.
Rhyse Dee (Wake Forest) started and earned the win. He allowed the Dutchmen run in the second on a Golston Gillespie (Ole Miss) RBI groundout that scored Ubaldo Lopez (Dartmouth) who began the inning with a single.
Dee pitched six innings and allowed all three of the Dutchmen hits, two in the second inning, with seven strikeouts and had a pair of walks. After Jake Dippold (Wofford) pitched two hitless innings of relief with two strikeouts, Vin Vitacco (Rider) allowed a walk in the ninth but retired the side with a pair of strikeouts to earn his second save of the year.
After the Dutchmen took the lead in the second, the Pioneers answered with two to take the lead in the bottom of the frame. Colin Davis (Wofford) stole second after getting hit by a pitch, and later scored on a wild pitch. Tanner Johnson (Kentucky) followed him on the bases and scored on a Mason Ruhlman (Riverland CC) single.
Johnson was 2-for-4 with a double and a run scored for the Pioneers, while Ruhlman and Brendon Conley (Siena) each finished 2-for-3
Elmira scored an insurance run, which turned out to be the final run of the game, in the third inning. Liam Hibbits (VCU) hit a lead off single and scored a batter later on an Anthony Nucerino (UCONN) RBI single.
Zach Merchant (Southern New Hampshire) started and took the loss of the Dutchmen. He allowed all three Elmira runs, on seven hits and two strikeouts over five innings. Stephen Koza (LSU Eunice) pitched two innings of two-hit relief with three strikeouts, and Ryan Greco (Brockport) registered two strikeouts in a perfect eighth inning.
Jerry Huntzinger (Seton Hall) walked to bring the tying run to the plate in the ninth inning, but Vitacco induced back-to-back strikeouts to put out the threat and complete the victory.
Gillespie picked up his eighth RBI in the game, tying him for third on the team. Huntzinger finished 1-for-2 with two walks and a stolen base.
The Dutchmen will be on the road again on Wednesday to take on East-Division foe Oneonta Outlaws in a 7:05 pm start. Albany will return home on Thursday with rematch against Elmira, beginning at 5:05 pm. Thursday will be the rescheduled SEFCU Hometown Heroes Night, with a Souvenir Cup Giveaway,and Ice Cream Night featuring Stewart's Ice Cream for sale all night.