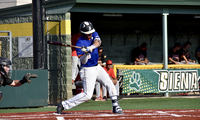 ALBANY, N.Y. - The Albany Dutchmen (10-9) slipped past the Glens Falls Dragons (10-13) in PGCBL action on Saturday night.
The Dragons scored five runs in the last three innings to pull within one of the Dutchmen, before Luke Murphy (Vanderbilt) came in to shut the door and earn his first save of the 2018 season.
Albany started the game with two runs in the bottom of the first inning when Ubaldo Lopez (Dartmouth) scored Lucas Dunn (Louisville) on an RBI single. Two batters later, Jerry Huntzinger (Seton Hall) would score on a balk.
The Dutchmen tacked on three more runs in the fourth inning. Golston Gillespie (Ole Miss) scored on a Nick Estrella (Azusa Pacific) double. Dunn would score Estrella and Cole McNamee (Wake Forest) on a single later on in the inning.
After taking a 6-1 lead going into the seventh the Dutchmen would surender one run in the seventh when Nick Kondo (Albany) scored Phoenix Hernandez (Southern New Hampshire) on a fielder's choice to first base.
Glens Falls would score two more in the eighth when Danny Ryan (Fairfield) scored on a Andrew Stanley (Arkansas) single. Hernandez would single home Nate Cobb (Malone) to cut the lead to 6-4 Dutchmen.
In the ninth inning Josh Arndt (Cornell) scored Brian Hart (Marist) on an RBI single, and Cobb would then score Ryan to pull within one of Albany, but Luke murphy was able to punch out Justin Rouse (Bellamire) to close out the game.
The Dutchmen will travel to Jamestown to take on the Jammers on Sunday, and will return home on Tuesday, July 3rd against the Jammers. Tuesday is Salute to America night at Connor's Park.
The Dragons travel to Saugerties to take on the Stallions on Sunday.