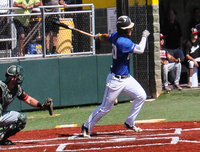 ALBANY, N.Y.- Cameron Masterman (Louisville) has been a model of consistency at the plate for the Albany Dutchmen.
Entering the sixth week of the Perfect Game Collegiate Baseball League season, the University of Louisville infielder is hitting .345 with 16 runs batted in and 14 runs scored. Masterman has had nine multi-hit games and six stolen bases in 25 appearances with Albany.
"He's brought some stability to the middle of the lineup," said Albany manager Nick Davey.
Masterman voluntarily sat out his freshman season at Louisville. The first time he saw live pitching in a game situation in 2018 was when he took the field in Albany's home opener against the Oneonta Outlaws on June 2. He responded with two singles and two runs scored in the Dutchmen's 12-5 victory. Three days later at Saugerties, Masterman ripped four hits and added a stolen base in Albany's 9-6 victory.
"I just really wanted to get a lot of reps because I red-shirted this season," said Masterman.
Davey has kept Masterman in the heart of Albany's lineup most games, primarily because he is a threat at the plate and on the base paths.
"It's very deceiving because he is very aggressive on the base paths. He's got more speed than what you may think he has," said Davey. "For a corner infielder, he's very fast."
Masterman and utility player Lucas Dunn were both offered a chance to play in Albany this summer by their Louisville coaches.
"They came to us and asked if we'd be interested," said Masterman. "They knew Lucas and I worked well together."
"Louisville has always been very good to us," said Davey. "They've sent us some really good players over the last few years."
Dunn came to Albany following a freshman season at Louisville in which he batted .303 while primarily coming off the bench. Masterman, though, took a risk by red-shirting.
"Red-shirting was a bit nerve wracking. Would it be the right choice for me?" said Masterman.
Whatever rust Masterman may have had from sitting out was quickly shaken off. He had nine hits in his first four games, which quickly established him as one of Albany's top offensive weapons.
"He's got a really good approach. He works at his craft every day," said Davey. "He does a really good job at situational hitting."
"It feels amazing," Masterman said of being an everyday starter. "The spring was just about sitting there."
As Albany enters the last 17 games of the regular season, Masterman is poised to help the Dutchmen compete with Amsterdam and Saugerties for the PGCBL East Division title. Albany (16-11) moved into second place after sweeping a doubleheader from Amsterdam (16-12) July 8 and are a half-game back of Saugerties (17-11) for the division lead going into its July 9 game at Glens Falls.
"I think we're in a really good spot," said Masterman. "We've really turned it on in July."
With Cameron Masterman providing a spark in the middle of Albany's lineup, the Dutchmen have a shot to win their first PGCBL title.