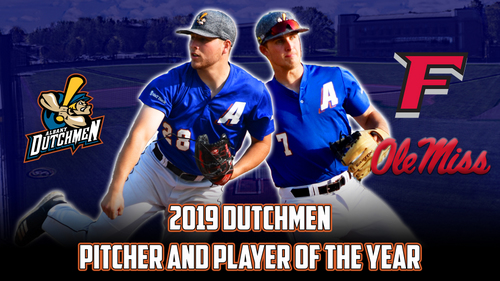 ALBANY, N.Y. – Justin Bench (Ole Miss) and Nick Grabek (Fairfield) have been named the Dutchmen Player and Pitcher of the Year for the 2019 season.
Bench joined the Dutchmen halfway through June and made an impact immediately for Albany. The rising sophomore batted .323 in 30 total games this season with four home runs, 19 RBIs, and 22 stolen bases. Bench consistently performed offensively throughout the year for Albany, ranking in the top three at the end of the regular season in batting average (.321), on-base percentage (.472), runs scored (30), and stolen bases (20). The Redington Beach, Florida native was the runner-up in the fans PGCBL Player of the Year poll with 30% of the vote. Bench was also named a First Team All-PGCBL selection as well as the starting shortstop for the PGCBL East Division All-Stars.
Grabek returned to the Dutchmen for his second season in Albany as the Guilderland High School graduated moved from the bullpen to the starting rotation. The Schenectady, New York native impressed in a larger role for Albany, finishing the season with a 2.70 ERA and 25 strikeouts in six starts and seven total games. The rising junior was named a Second Team All-PGCBL selection and a reserve pitcher for the PGCBL East Division All-Stars.
The Albany Dutchmen finished the 2019 season with a 28-16-1 record, good for second place in the PGCBL East Division. The Dutchmen reached the PGCBL East Division Finals in their seventh straight playoff appearance.