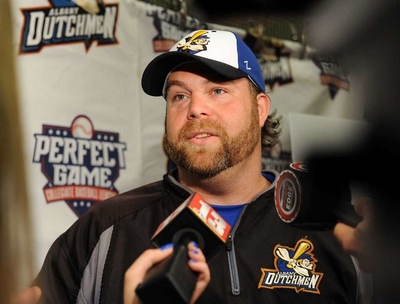 March 18th, 2021
When the Dutchmen take the field on June 3rd, a familiar face will be seen prowling the dugout.
"I'm extremely excited to get back on the diamond this summer to compete for a championship," said Head Coach Nick Davey, who will be back at the helm for the Dutchmen in his 11th straight season. "I want to thank [co-owner] Paul [Samulski], [co-owner] Alan [Bignall], [Vice President & General Manager] Jason [Brinkman], and [Assistant General Manager] Eric [Samulski] for all their hard work to make a season happen this summer."
In his tenure with the Dutchmen, Davey has coached over 30 Major League Baseball draft picks and guided the program to 7 PGCBL Playoff appearances.
"I'm absolutely thrilled to have Nick back in the dugout," said Brinkman. "He's a tremendous leader and mentor both on and off the field; he's incredibly well respected by both players and his peers. He's been dedicted and devoted to the Dutchmen and we're extremely lucky to have him."
For Coach Davey, coming back means much more than just getting the opportunity to coach another season's worth of games.
Being a part of the Dutchmen organization has been a marker for his own growth over the last decade. "As we've evolved as an organization over the years, it has been really fun to know that my two boys have grown up in these dugouts," Coach Davey reflected. "They enjoy the summer as much as I do."
However, coming back is not without its sacrifices. As Coach Davey puts it, "The summer season is a grind." There's only one way Coach Davey has been able to get through that the last decade. "I do want to say thank you to my wife for supporting me for the past 10 summers and allowing me to continue to do what I love. Without her support I would never be able to make it happen."