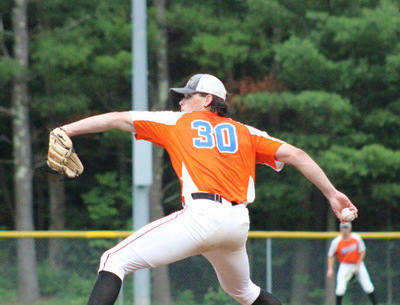 Wednesday, July 7th (Guilderland, NY) — The Albany Dutchmen defeated the Mohawk Valley Diamond Dawgs 5-0 to make it a season high 5-game win streak.
It was dominant pitching all night long for the Dutchmen. Mitch Murrell (Ole Miss) was dominant throwing 5.0 innings of scoreless ball, allowing just 1 hit while striking out 5.
Connor McHugh (St. John Fisher) and JT Larson (North Florida) combined to throw the last four scoreless innings. Larson earned the save throwing 3.0 innings allowing just 1 hit.
The Dutchmen offense got off to an early lead. Scoring the first run of the game in the second inning when Jake Manderson (Georgetown) drove in Evan Fox (Stony Brook) on a sacrifice fly to make the score 1-0.
Albany would double their lead in the next inning. Tom Kretzler (Brockport) drove an RBI-double to left-center field that brought in Christian Kondo (Stetson) to make the score 2-0.
Neither squad would score until the bottom of the eighth inning when the Dutchmen scored three insurance runs. Isaac Humphrey (Louisville) had an RBI-single to start the scoring. Fox would later score on a passed ball and Humphrey would score on a walk to make the score 5-0.
The Diamond Dawgs only managed four hits on the night. Vincenzo Castronovo (Bryant) did record two hits on the day for the visitors.
The Dutchmen return to action tomorrow for a double header against the division leading Amsterdam Mohawks starting at 5 pm. The games will be played in Amsterdam but the Dutchmen will be the home team for both games!