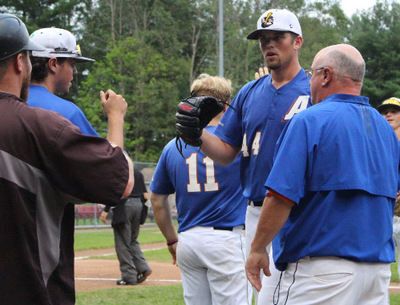 Thursday, July 22 (Guilderland, NY) — The Albany Dutchmen lost to the Oneonta Outlaws 15-8 at home. With the loss the Dutchmen fall to 18-20 on the year.
The Outlaws jumped out to the early lead in the first inning. Paul Tammaro (Oswego) opened the scoring when he came across on a wild pitch. Brenden Harris (Cypress) then drove in Carson Swank (Yale) on a sac fly to make the score 2-0.
The Dutchmen would bounce right back in the bottom half of the inning. Will Stroud (Azusa Pacific) brought in George Rainer (RPI) on a sac fly of his own. Mike Handal (Fairfield) would later come across on an error to tie the game.
Albany was not done in the first inning after that however. Nick Swartz (St. Johns) and Isaac Humphrey (Louisville) would score on another error to make the score 4-2.
The Dutchmen kept on rolling in the fourth inning. Ty Gallagher (Herkimer) drove in Johnny Decker (Stony Brook) on a sac fly. Jake Manderson (Georgetown) would drive in another on an RBI single to make it 6-2.
Oneonta would start to come back in the seventh inning. Harris drove in two more on a single to cut the deficit in half. Ryan Weiss (Oswego) came in to score on a Mario Demera (San Francisco) sac fly to bring the score to 6-5.
Albany would get two runs back in the seventh. Handal drove in two on a single to make the score 8-5.
From the eighth inning on Oneonta took over. In the top of the eighth, Riley Hall (Coker) brought two across on a single. Harris would then earn his fourth RBI on the game with another sac fly. Weiss would then score on an error to make the score 10-8.
The Outlaws would tack on another five runs in the ninth inning. Tammaro and Weiss both picked up singles that drove in runs to highlight the inning.
The Dutchmen will head on the road tomorrow to face off with the Saugerties Stallions. They will return home for the final time on Tuesday to play the Outlaws again at 6:35 pm.