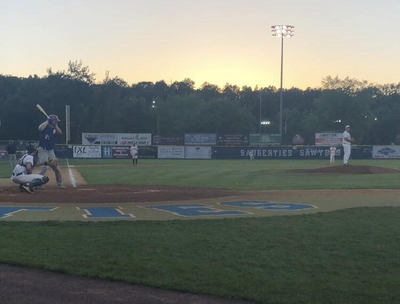 (SAUGERTIES, NY)-- The Albany Dutchmen took the 2022 season opener at Cantine Field against the reigning PGCBL Champion Saugerties Stallions by a final score of 13-10. Albany put up a massive eight run 7th inning to take the lead and pull away from the defending champs.
Arlo Marynczak (Siena) worked four innings, three hits, and two earned runs and put the Dutchmen offense in a spot to win the game upon exit.
Saugerties took an early 2-0 lead in the 2nd inning on a couple of passed balls, but the Albany bats rallied to take a 4-2 lead in the away half of the 4th.
Caden Shapiro (Princeton) was 3-4 on the evening, his first hit of the night came in the 4th inning before he scored Albany's first run of the season on a Tyler Young (Lehigh) single. The four run 4th frame was highlighted by a 2 RBI double from Matt Bergevin (Fairfield), who ended the game 3-6 with a pair of doubles and three RBIs.
An eight run 7th inning for the Dutchmen started on back to back RBI walks from Riley Montayne (Adirondack) and Danny Rogers (Rutgers). Matt Bergevin (Fairfield) and Caden Shapiro (Princeton) each picked up an RBI single, with a 2 RBI single sandwiched between them from clean up hitter David Silva (Ohio Dominican), and Ben Lavery (St. John Fisher) capped off the rally with a 2 RBI single of his own.
Saugerties trailed 13-6 heading into the home half of the ninth, but the Stallions refused to go down without a fight. A four run Stallions rally was mainly courtesy of a couple walks and passed balls. Mike Maratea (Ramapo) came in with one out, bases loaded, and the winning run at the plate, and needed just one pitch for a game-ending double play.
Albany is 1-0 on the season, and will take the field tomorrow at 5:00 for a home doubleheader at Keenholts Park against the Glens Falls Dragons.