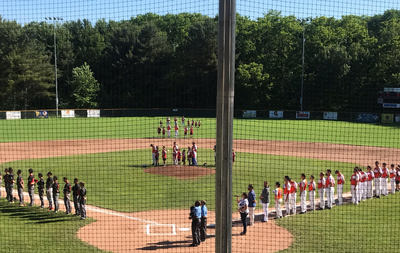 (ALBANY, NY) – The Albany Dutchmen stayed undefeated after today's doubleheader sweep of the Glens Falls Dragons which were both mercy rules by finals of 14-4 and 13-3.
Hunter Sabbers (Marist) set the tone for the Dutchmen pitching staff to succeed today as the New Jersey native worked 4 innings, 4 hits, 2 earned runs and 4 strikeouts.
Game one saw the Dutchmen get out to a 10-0 lead after three innings as the Dutchmen exploded for a nine run 3rd frame. The third inning saw 14 Dutchmen at bats, and was highlighted by a three run home run from Albany's leadoff hitter Tyler Young (Lehigh). David Silva Jr. (Ohio Dominican) picked up two separate RBI singles in the inning which scored Danny Rogers (Rutgers) both times.
High school seniors saw success in game one, as Brody Keneston (Le Moyne) was 3-3 with 4 RBIs and a double, and Riley Montayne (Adirondack) was 2-3 with 2 RBIs.
The Dutchmen offense scored a run in all five innings of game two en route to the second mercy rule win of the day.
Danny Rogers (Rutgers) was the star of the show in game two, as the Troy high grad went 4-4 with 4 RBIs and a pair of doubles.
Albany moves to 3-0 on the young season after today's doubleheader sweep of Glens Falls, and last night's grind of a victory against the Saugerties Stallions.
Albany returns to action Monday at Dutchmen Field at Keenholts Park to take on the Saugerties Stallions at 6:35 pm.