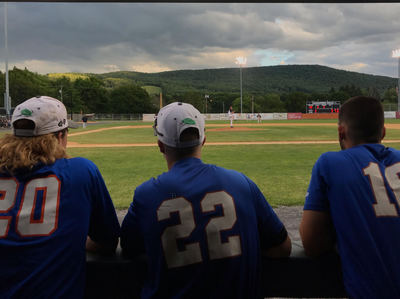 (ONEONTA)-- The Albany Dutchmen defeated the Oneonta Outlaws 9-7 Friday night at Damaschke Field in Oneonta, getting even in the series with the Outlaws after Oneonta handed the Dutchmen their first loss of the season last week.
Albany used a six run eighth inning to turn a 6-3 deficit into a 9-6 lead, propelling the Dutchmen to their third Friday road game victory in a row.
Tyler Young (Lehigh) and Danny Rogers (Rutgers) led off the eighth reaching base, and after a Nick Schwartz (Southern New Hampshire) fly out to deep right moved Young to third, Matt Bergevin (Fairfield) followed with a lined single to left to score Young and move Rogers to second and make it 6-4. After an error by the Christian Coombes (St. Peter's) moved the runners up a base, David Silva Jr. (Ohio Dominican) followed with a two-RBI single, his third and fourth of the night, to tie it at 6.
Oneonta would then turn to John Hacker (Marist), but that would be to no avail. Chance Checca (Herkimer) would follow with a double and put runners back at second and third, and after a passed ball gave the Dutchmen the lead, Alex Brill (Ohio Dominican) would join the hit parade, doubling in Checca and make it 8-6. Caden Shapiro (Princeton) would hit a sacrifice fly later in the inning to make it 9-6.
The Outlaws would add a run in the home half of the eighth, but that as much as they could muster off an incredible evening from the Dutchmen bullpen. Ryan McCarroll (Wheaton) would throw five innings, allowing only one hit, one run (unearned), and struck out six to move to 2-0 on the season, and Scott Griesemer (North Florida) picked up his first save, tossing the final inning and a third of shutout baseball.
WIth the win, the Dutchmen move to 9-3 on the season. They return home Saturday to host the Mohawk Valley DiamondDawgs in a doubleheader beginning at 5:00 PM at Keenholts Park.