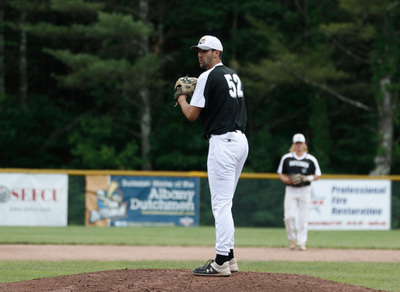 (ALBANY)-- Albany Dutchmen dropped both games in today's doubleheader against Mohawk Valley by final scores of 7-2 and 5-0.
Albany threw four MAAC pitchers from three separate schools today, as Arlo Marynczak (Siena) and Jack Wren (Marist) combined for 5.2 innings with just one earned run in game one. Game two saw the trio of Hunter Sabbers (Marist), Connor O'Neill (Manhattan) and Billy Fitzgerald (Fairfield) rack up 10 strikeouts as the group threw all seven innings.
Game one was scoreless after four innings before Albany took a 2-1 lead after five innings courtesy of an Anthony Raimo Jr. (Rhode Island) RBI double, as well as a Caden Shapiro (Princeton) sacrifice fly. Mohawk Valley pulled away in the 6th thanks to a Garrett Musey (Goldey-Beacom) grand slam.
Albany's two hits in game two were both provided by leadoff hitter Tyler Young (Lehigh) who went 2-3 with a double. Mohawk Valley got a dominant game two outing from Troy Butler (Binghamton) who threw all seven innings without allowing a run and tallying 11 strikeouts.
Albany returns to action tomorrow at Glens Falls for a 7:00 first pitch to start a span of three straight away games.