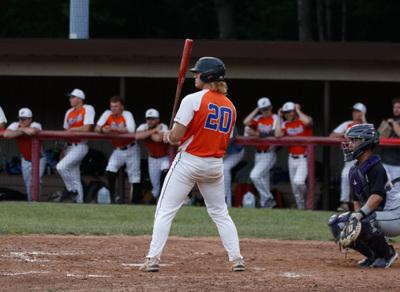 (GLENS FALLS)-- Albany Dutchmen picked up an 11-1 mercy rule victory in seven innings at Glens Falls today. Albany has now mercy ruled Glens Falls in all four meetings between the two teams. Albany is now 10-5, in second place in the East Division and 2.5 games behind Amsterdam, while Glens Falls moves to 2-11, and 9 games behind Amsterdam.
Albany's pitching was brilliant, holding Glens Falls to just three singles on the day. Andrew Cubberly (Quinnipiac) threw four shutout innings to go with eight strikeouts in his first start of the summer. Luke Pusz (Carson-Newman) and Aidan O'Connor (St. Thomas Aquinas) kept the Dutchmen mound domination rolling out of the bullpen, combining for three innings of one-hit ball along with four strikeouts.
Dutchmen bats put up runs in each of the first six innings, and totalled 10 hits to go with 11 runs on the day. Chance Checca (Herkimer) picked up five RBIs on the night as his two-RBI double in the 1st inning, and bases clearing three-RBI triple in the 6th frame both served as clutch hits for Albany.
On top of Checca's RBIs, Albany got an RBI apiece from David Silva Jr. (Ohio Dominican), Cam Jordan (San Jacnito), Ben Lavery (St. John Fisher), and Zach Ranney (SNHU).
Albany not only excelled on the mound and at the plate tonight, but the Dutchmen also excelled on the basepaths, picking up six stolen bases to bring the team's league leading total to 65. Cam Jordan picked up four stolen bases tonight, as his season total of 11 and David Silva Jr.'s 16 rank first and third in the league.
Albany returns to action Tuesday, June 21st at Oneonta for a 7:00 first pitch.