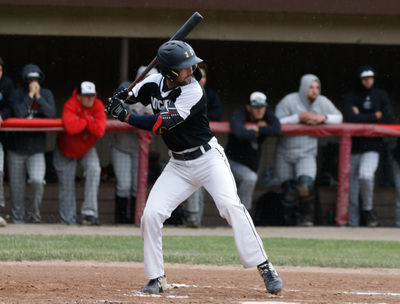 (ONEONTA)-- The Albany Dutchmen used a big night from leadoff hitter Nick Schwartz (Southern New Hampshire) and a Harry Houdini-like effort from pitcher Jack Wren (Marist) in the ninth inning to propel the Dutchmen to a 7-3 victory over the Oneonta Outlaws at Damaschke Field Tuesday night.
Schwartz, batting at the top of the lineup for the first time this season, went 2-for-4 with a run and all four of the team's runs batted in on the evening, while Wren allowed the first three Outlaws he faced in the ninth inning to reach base before battling back to retire the next three and secure the win.
Schwartz and the Dutchmen broke open the scoring in the top of the third, as Schwartz hit his first triple in his 38th career game in a Dutchmen uniform that scored Alex Brill (Ohio Dominican) and Southern New Hampshire teammate Zach Ranney to give the Dutchmen the first two runs of the game, before scoring on a passed ball three batters later to make it 3-0. The Massapequa native would then single in the top of the fifth to score Caden Shapiro (Princeton), and push the lead to four.
Albany was allowed to get out to a lead in the first half of the game thanks in large part to starter Michael DiMartino (Fairleigh Dickinson). DiMartino avenged the loss he took to the Outlaws on June 8th by throwing four innings of scoreless baseball, allowing just two hits and one walk while striking out eight Outlaws batters en route to his first win of the season.
Oneonta's bats would wake up in the later innings, cutting the lead in half, 6-3, after eight innings, before the Dutchmen tacked on an insurance run in the ninth. Austin Bode (Louisville) scored on an error to push the lead back up to four for the visitors before Wren's magic act in the bottom of the ninth gave the Dutchmen their second win over Oneonta in the last five days. Wren threw the final one and two-thirds innings, allowing just one hit and two walks to go with three strikeouts for his first save in a Dutchmen jersey.
With the win, the Dutchmen move to 11-5 on the season, and will now prepare to play back-to-back doubleheaders, kicking off in Elmira on Wednesday beginning at 5:00 PM.