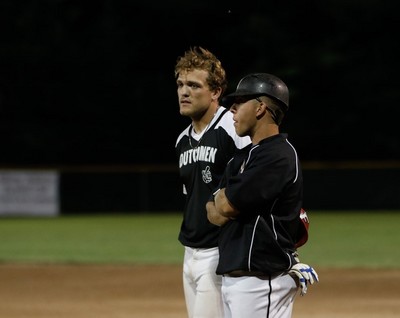 The Dutchmen are proud to announce the hiring of five Assistant Coaches that will join Head Coach, Jordan Bernacet, this summer. Mike Gibson, Franklin Miller, Exavier Santiago, Wil Bernacet, Sal Pezzola will all support the team in a variety of roles and bring experienced backgrounds to the table.
"I'm extremely excited for this coaching staff we put together," said Head Coach, Jordan Bernacet. "We have a good balance of young/hungry and seasoned/experienced coaches. I think our coaches have a solid foundation of old-school fundamentals while also having an appreciation and deep understanding of new-age tech/analytics."
"I believe our players will respond well and our goal is to promote the best possible environment of winning and development," continued Bernacet.
Mike Gibson was hired as the lead Assistant Coach and will be the team's 3rd base coach as well as overseeing the infielders. Gibson hails from Schenectady, NY and was previously a 5-year middle infield starter at Alfred State University, graduating in 2021. He is currently in his second year as an Assistant Coach at Alfred State, specializing in infield defense and baserunning.
Franklin Miller has been hired as the 2nd Assistant and will act as Pitching Coach. Miller is from Ballston Spa, NY and is the owner of Baseball Health & Performance Institute. He was a left-handed pitcher at Hudson Valley Community College, Dominican College, and Sacred Heart University. He was the Pitching Coach for 2019 NECBL Champs Keene Swamp Bats and has also acted as Pitching Coach in the Virginia Beach Collegiate Baseball League & the Hudson River Collegiate Baseball League. He was an M.S. in Exercise Science and is a Certified Strength & Conditioning Specialist.
Exavier Santiago will act as the team's Hitting Coach and 1st base coach, and will be responsible for overseeing the catchers. Santiago comes from Branford, CT and has previous coaching experience alongside Bernacet working with the Kingsway Monarchs, a Christian college prep organization, for the past 3 seasons. As a player, Santiago was a catcher and right-handed pitcher at Community College of Rhode Island ('19) and Bryant & Stratton-Albany ('22). He began his coaching career as an Assistant Coach with the Northeast Pride ('17-'18), a regional travel organization.
Wil Bernacet will maintain the duties of Bench Coach and Assistant Pitching Coach. He resides in Schenectady, NY and is the father of Head Coach, Jordan Bernacet. The family duo has worked together closely on the field previously with the Kingsway Monarchs. Wil has been Director of Operation and Assistant Coach since he founded the Monarchs in 2019. He previously was Assistant Baseball Coach at Schenectady High School for 9 years ('13-'21) while also acting as President of Schenectady Babe Ruth during the same period ('13-'21). Additionally, the elder Bernacet was the GM/Assistant Baseball Coach for the Capital District Chiefs ('14-'19) and Head Club Baseball Coach at Union College ('16-'18).
Sal Pezzolla will round out the staff as Assistant Hitting Coach and will be responsible for overseeing the outfielders. Pezzolla is from East Greenbush, NY and is currently a Hitting Instructor at Top Level Athletics. He played college baseball as a corner infielder at HVCC ('18) where he was named 1st Team All-Region before continuing his playing career at Saint Anselm ('22).
"More than anything, I'm grateful to share the dugout with not only knowledgeable coaches but family and close friends," said Head Coach, Jordan Bernacet. "Trust, communication, and honesty are built into our relationships and that will have a positive effect on our team as we take on the '23 Dutchmen season."