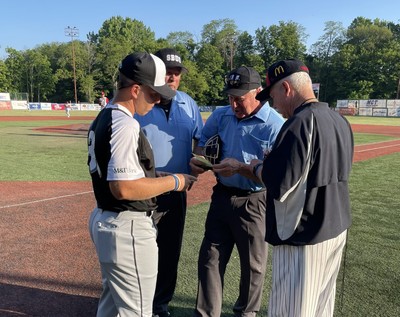 June 1st, 2023
(AMSTERDAM)-- This year's version of the Albany Dutchmen were faced with a tough task to kick off the 2023 campaign, and succumbed to the defending PGCBL champion Amsterdam Mohawks by a score of 10-0 Thursday night.
After a scoreless first, Tyler Cannoe (Salve Regina) would pick up the first hit of the Dutchmen season in the top of the second, before Will Plattner (Ole Miss) followed with a single of his own two batters later. A fly out and a strikeout would however strand the first two Dutchmen runners of the night.
Amsterdam would plate the first run of the ballgame in the bottom half of the inning and would score in four of the next five to hand the Dutchmen a mercy rule loss in the home half of the seventh, and end the night for both squads.
Cannoe would be the lone Dutchmen to reach twice, after he drew a hit by pitch to lead off the fourth. Dutchmen starter Derek Duval (Post) would pitch three strong innings, but was handed the loss after he allowed the run in the second.
The Dutchmen have Friday off before kicking off their home slate with a doubleheader on Saturday against the Watertown Rapids. First pitch from Dutchmen Field in Guilderland is set for 5:00.