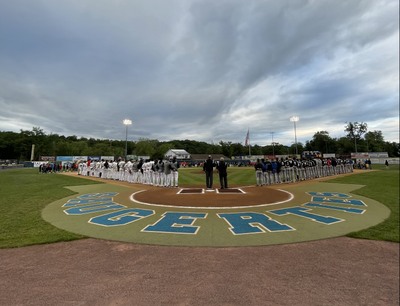 June 4th, 2023
(SAUGERTIES, NY): A tight, back and forth contest at Cantine Field Sunday night did not go in the Albany Dutchmen's favor, as the Dutchmen fell to the Saugerties Stallions by a score of 5-3.
Albany put up a two-out rally in the opening half to begin the scoring, as after Tyler Cannoe (Salve Regina) reached on an error by Sam Hill (UMass). Back-to-back singles from JT Vance (Mississippi College) and Nick Plue (Manhattan) gave the Dutchmen the early lead.
Saugerties would respond in the bottom of the second, as a trio of singles and a hit by pitch gave the hosts a 3-1 lead through two innings.
After a quiet third and fourth innings, Albany would respond in a big way in the fifth, as Vince Venditti (St. Rose) would blast his second home run in two days, a two-run home run deep over the left field fence to tie the game up at 3.
Both offenses would remain fairly quiet the rest of the night, but a two-strike, two-out, single from Damion Kenealy (Polk State) would plate two in the bottom of the seventh, and would provide the final score of 5-3.
The Dutchmen bullpen combined to throw six innings of relief, allowing just three hits and two runs from the Kenealy single while walking one and striking out 12. Jackson Smith (Kankakee CC) would go two innings, allowing just one walk and striking out five. Greg Shaw (Manhattan) threw two innings of his own with two hits and two strikeouts, and Nick Kolze (Xavier) threw the final inning with one walk and two strikeouts.
Albany returns home to Dutchmen Field for four of their next five games, and kick off that slate Monday in Guilderland against the Glens Falls Dragons for a 6:35 first pitch.