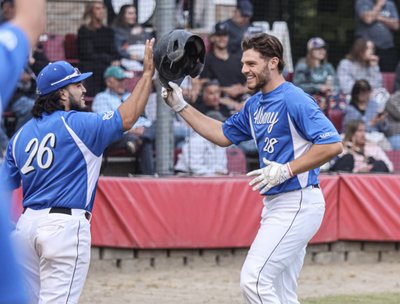 June 8th, 2023
The Albany Dutchmen kicked off their 15th year in franchise history last week when they faced off against the Amsterdam Mohawks on PGCBL Opening Day.
While it may be just any other season for most franchises, this is the first year since 2010 where the Dutchmen team will not be helmed by long-time head coach Nick Davey. Instead, Davey's former assistant coach Jordan Bernacet succeeded him as manager of the Dutchmen and put together a solid team in his first season as a manager in the PGCBL.
Let's meet this year's Dutchmen.
There are five total returners for the 2023 Dutchmen: Utility player Brody Keneston of Lemoyne College, third baseman Nick Plue of Manhattan College, and pitchers Grant Smeltzer of Fairfield University, Andrew Cubberly of Quinnipiac University, and Ryan McCarroll of Wheaton College.
Also returning to the PGCBL is first baseman Tyler Cannoe of Salve Regina, who was an All-Star in 2022 for Batavia but will suit up for Albany in 2023. He'll be joined at first base by Korson Hastings from Trinity University (TX).
The 6'5" Cannoe, who is from Schenectady, NY hit .295 for his college team this year with eight home runs and 51 RBI.
Second base will feature a few local players from New York colleges.
Mario Cubello from Bethelem, NY plays second base at St. John Fisher, Austin Francis from Troy, NY plays up the middle at New Jersey Institute of Technology, and Mike Talavera from Waterford, NY plays second for Hudson Valley Community College.
Talavera started 35 games this season, hitting .391 with a .455 on-base percentage while hitting three home runs, driving in 33 runs, and stealing 24 bases.
He will be joined up the middle by two Xavier University teammates, Donovan Canterberry and Joe Karpierz from Cohoes, NY.
Canterberry leads the Dutchmen through the first five games with a .400 average, while also hitting one home run and stealing four bases.
Rounding out the infield is Plue and Josh Foglia of Latham, NY who is a corner infielder for Hudson Valley Community college.
The Dutchmen will rely on a trio of catchers during the season: Tyler Kipp from Fairfield University, Steven Nitch from Barry, and Will Plattner from University of Mississippi.
Plattner appeared in seven games for the Rebels as a true freshman and was the 31st-ranked player in the state of Illinos as a high school senior, according to Perfect Game. He was also among the top 100 catchers in the entire country before signing with Ole Miss.
The outfield will be made up of five players, including two local athletes, Tre Mariano of Latham, NY (Herikmer Valley CC) and Vince Venditti of Burnt Hills, NY (St. Rose College). Venditti has been a star for the Dutchmen early in the 2023 season, stealing eight bases and hitting two home runs while batting .333
He'll be joined in the outfield by Anderson Moreno of Southern New Hampshire University, Anthony Paksell from Rider, and JT Vance from Mississippi College.
The pitching staff features quite a few teammates.
Grant Smeltzer will be joined by his Fairfield teammate Jake Memoli, Clayton Jackson joins his Trinity (TX) teammate Korson Hastings, Greg Shaw joins his Manhattan teammate Nick Plue, Nick Kolze joins his Xavier teammates, Kankakee Community College teammates Aidan Nugent and Jackson Smith will both be on the staff, and both Parker Ledlum and Austin Trumpour join their SNHU teammate Anderson Moreno.
Nugent threw 47.2 innings for a 34 win Kankakee Community College team, compiling three wins and a 3.72 ERA in his freshman year.
There will be a few other local pitchers on the team, including Andrew Dongelewic from Latham, NY (Stonybrook), Greg Mays from Troy, NY (Cortland), Devon Campbell from Guilderland, NY (Oswego), Ryan Pittz from Clifton Park, NY (Albany), CJ Kuentzel from Albany, NY (Iona), Ryan Bates from Cohoes, NY (Siena), Elias Conway from East Nassau, NY (Delaware), and Derek Duval from Rotterdam Junction, NY (Post).
The pitching staff is rounded out by David James from USC Upstate, Brayden Childress (Warner University), Jacob Maurer (Lafayette), and Danny Iglesias (St. Thomas MN).
James was electric in his first start for the Dutchmen, striking out three and allowing just three hits in four scoreless innings. Maurer has also already thrown three scoreless innings, striking out four and allowing just one hit.