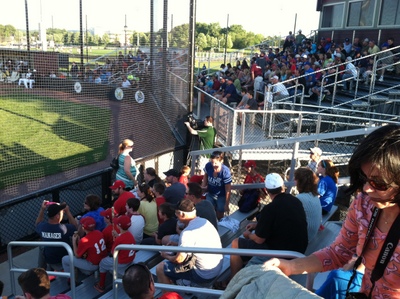 Dutchmen Remain Perfect; Move to 5-0 with 5-3 win over Watertown
Albany NY – The Albany Dutchmen (5-0) extended their best start in franchise history Saturday night at Bob Belizzi Field with a 5-3 win over the Watertown Rams (2-5). The Dutchmen also matched their longest winning streak in team history and remained the lone unbeaten team in the PGCBL this season.
Kyle Pheland (Salve Regina) earned his first win of the season in his first appearance for Albany in relief of starter Bryan Carr (St. Rose), who went six and a third. Ben Seabrook (North Alabama) closed the door for the Dutchmen in the 9th for his third save of the season.
Albany struck first in the bottom of the 1st inning off of Watertown starter Jake Jenkins (Pacific). It was the Coastal Carolina connection that did the trick for the Dutchmen. Zach Remillard (Coastal Carolina) hit an RBI single to plate college teammate Anthony Marks for the first run of the game. Then Nate Rupiper (Memphis) and Chris Suseck (Coastal Carolina) added an RBI a piece to give Albany a 3-0 lead after the first inning.
However, Watertown came creeping back in the next half inning. Bryce Greager (Chandler-Gilbert Community College) smacked a two-run homer in the top of the 2nd to cut the Rams deficit to one and made the score 3-2.
Then the middle innings turned out to be a pitcher's duel between Albany and Watertown. Carr pitched into the 7th inning for the Dutchmen and struck out four, while Jenkins pitched six innings and also struck out four.
Watertown tied it up in the 7th on a wild pitch from Carr, plating Greager. But Dutchmen skipper Nick Davey (4th season), made a quick change to turn the game around. Kyle Pheland came in to halt the Rams comeback and got out of the 7th unscathed, leaving the game tied at three.
The Dutchmen took advantage in the bottom of the 7th. Matt Dacey (Michigan), pinch-hitting for Remillard, scored the go-ahead run on an error by Greager in the field at short. Jack Wietlispach (Niagara) then hit an RBI single to score Rupiper and gave Albany a 5-3 lead. It never looked back.
Pheland shut down Watertown in the 8th and Seabrook induced a game-ending double play in the 9th to give Albany the win.
Next up, the Dutchmen finish off a home and home with the Rams, traveling to Watertown Sunday. After an off day Monday, Albany returns home to face the Elmira Pioneers at 7:05 at Bob Bellizzi Field on Tuesday, June 18th, with Pheland scheduled to make the start. Tuesday is also High School Student-Athlete Recognition Night, sponsored by NYSPHSAA.