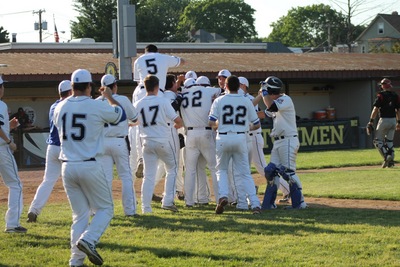 The Albany Dutchmen (10-3) have been ranked nationally for the second straight week by Perfect Game USA's second Summer Collegiate Team Rankings after continuing its best start in franchise history. The Dutchmen come in this week at #13.
Albany's #13 ranking puts them above seven of the ten teams in the Cape Cod Baseball League. This week's ranking also marks the first time in franchise history the Dutchmen, leaders of the Perfect Game Collegiate Baseball League, have been ranked nationally for two consecutive weeks.
Two other PGCBL teams, the Cooperstown Hawkeyes and Glens Falls Golden Eagles, received consideration from the Perfect Game organization and the top 30 rankings.
Fourth-year head coach Nick Davey leads the Dutchmen and a pitching staff that ranks atop the league with a 2.53 team ERA. Davey's teams have won more games than the previous season in each of his first three years.
Dylan Collett (Keene State) leads the Albany pitching staff out the bullpen with the 2nd-best ERA in the league at 0.69. Dutchmen closer Ben Seabrook (North Alabama) has also shut it down. The righty has a win and a league-leading four saves in five appearances. Albany's offense boasts five .300-hitters, led by Ivy League Rookie of the Year Joe Purritano (Dartmouth), who has a team-best .391 average.
The Dutchmen are also still waiting for the arrival of outfielder Derrick Armstrong (Mississippi State) who is still playing with the Bulldogs in the College World Series Finals against UCLA.
Albany travels to Utica for a game Tuesday night before returning home to Bob Bellizzi field for home games Wednesday and Thursday. The Dutchmen take on the Mohawk Valley DiamondDawgs (8-8) tomorrow, then host the Adirondack Trail Blazers (6-8) Thursday. First pitch for both games is set for 7:05 PM.