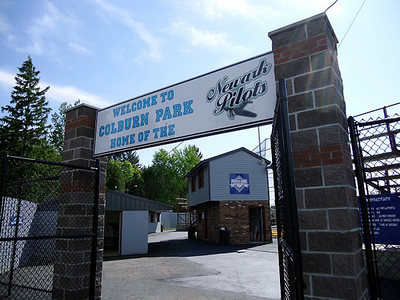 Newark, N.Y. – The Albany Dutchmen (12-8) lost 4-2 to the Newark Pilots (9-15) at a rain-soaked Colburn Park on Wednesday night. Albany has now lost seven of their last 10 games, while Newark broke a six-game losing streak
The game was delayed approximately one hour and five minutes after a heavy rainstorm moved through Newark, N.Y. around 6 PM. But despite minor flooding in the dugouts pregame, the game was able to be started around 8:10 PM.

Albany struck first in the top half of the 3rd inning, after an RBI double by Joe Purritano (Dartmouth) scored Anthony Marks (Coastal Carolina) and Brad Noland (North Alabama), giving the Dutchmen a 2-0 lead.
But Newark responded with two runs of their own in the home half of the inning. After a leadoff double from Steve Laurino (Marist), Samm Wiggins (Houston Baptist) and Jeff Edwards (Valparaiso) followed with singles of their own. With the bases loaded and no outs, Albany starting pitcher Sean Spicer (Baylor) retired two Newark batters, but couldn't get out of the inning without allowing any runs. Max Rosing (Cortland) and Jacob Russell (Kentucky) both drove in runs in the 3rd inning, tying the game at two.
The middle innings were a pitcher's duel between Albany's Spicer and Newark starter Andrew Sanders (Ithaca). Spicer went 6 innings, gave up two runs on just four hits, and struck out seven Newark batters while walking just one. And Sanders went 7 strong innings, giving up two runs on eight hits.
Newark took advantage after Spicer left following the 6th inning, and broke the game open in the bottom half of the 7th. With Andrew Bannon (Skidmore) on the mound, Scott Matthews (Washington) and Sam Fox (Pomona-Pitzer) both reached safely on base hits. Max Rosing (Cortland) then knocked in two of his game-high three RBIs, giving Newark a 4-2 lead that they would not relinquish.
Sanders got the win, improving his record to 3-0 on the season, while Bannon got the loss, dropping to 0-3 on the season. Newark closer Donald Frew (Young Harris) struck out the side in the 9th inning to pick up his fourth save of the season.
Albany has an off day on July 4th, before taking to the road once again Friday night at Amsterdam. The Dutchmen return home on Saturday night against the Adirondack Trail Blazers (7-15) for the PINK game! The game will benefit the American Cancer Society as well as Susan G. Komen for the Cure, and will feature a game-worn jersey auction, a huge raffle with great prizes, and Yankees Trails Baseball Bingo! First pitch is 7:05 PM on Saturday night.