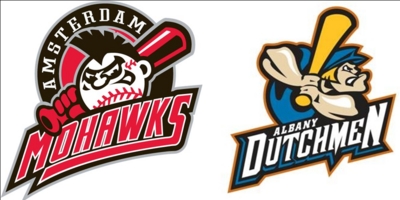 AMSTERDAM, NY – The Albany Dutchmen (22-17) jumped out to an early 7-0 advantage over the Amsterdam Mohawks (24-16) before Amsterdam took their first swings of the night. After that, it was all Mohawks who overcame the early hole on their way to a 13-9 victory at Shuttleworth Park against the Dutchmen.
The win pushes the Mohawks into first place in the East Division of the Perfect Game Collegiate Baseball League for the first time this season. The loss places Albany just a game and a half back of Amsterdam, well within striking distance.
Josh Gardiner (Radford) led the Mohawks knocking out a three-run homer in the fourth inning that tied the game at 9-9 as part of a 4-for-4 game which also included a double and four RBIs total. He also had two stolen bases and three runs scored.
Ed Charlton (NJIT) had the game-winning RBI in the sixth inning for Amsterdam, on a sacrifice fly that pushed Amsterdam out in front 10-9.
Brian Ruhm (UC Davis) was 2-for-4 with a two-run single that came in the Dutchmen seven-run rally in the first inning and Derrick Armstrong (Mississippi State) socked his second home run of the season in the fourth inning.
Albany sent 12 batters to the plate in the top of the first scoring seven runs on five hits. But Amsterdam got four of them back in the bottom of the second and then made it 8-6 in the third.
After Armstrong's home run in the top of the fourth pushed Albany out in front 9-6, a trio of Amsterdam relievers quelled the Dutchmen attack. Chris Kalica (St. John's) Zach Quayle (Ave Maria) and Mike Urbanski (Binghamton) fired a combined 6 and a third innings of one-run ball allowing just two hits.
Gardiner's three-run homer in the fourth brought the crowd to a roar in a 9-9 tie. Then Ed Charlton's sac-fly in the sixth gave Amsterdam the lead at 10-9. Albany had only one base-runner from the fifth through the ninth; a seventh-inning two-out single by Brad Noland (North Alabama).
Albany has the day off tomorrow before the PGCBL all-star game in Newark, NY follows on Wednesday, where five Dutchmen players will represent the East. Matt Dacey is also slated to participate in the home run derby.
The Dutchmen finally return home on Thursday, July 25th, to take on the Utica Brewers in a doubleheader. It'll be a "Tailgate Tournament" at Bob Bellizzi Field, where you can win a trip for two to Turning Stone if you score the most points in cornhole. It is also All You Can Eat Night, for $10. First pitch is set for 5:05 PM.