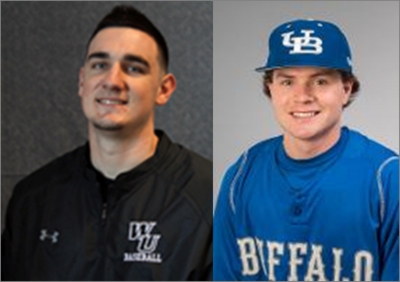 The Dutchmen bullpen will be strengthened by some hard throwing, experienced pitchers this summer. Both lighting up the radar gun with 90 mph fastballs, closer Tyler Fries (Wilmington University) and reliever Mike Kaelin (University of Buffalo) will bring the Dutchmen experience and a proven track record.
A 6'7" junior from Kennett Square, Pennsylvania, Tyler Fries has a history of success as a late game force. The former All Ches-Mont League, All-State and Ches-Mont Pitcher of the Year was an immediate success for Wilmington, appearing in 21 games as a freshman. The following season, he led Wilmington with a 1.82 ERA in 28 appearances, striking out 27 and allowing only six earned runs. In the Cal Ripken league last summer, Fries recorded eight saves while compiling a miniscule 0.94 ERA across 16 games. The tall righty has continued his success early in the 2014 season, leading the team with three saves so far in a team-leading eight appearances. He's struck out eleven batters, while recording a 2.16 ERA and holding opponents to a .138 batting average. With his experience thriving in the closers role, Fries figures to be a fixture at the end of games for the Dutchmen.
Joining Fries as a hard throwing presence on the mound is University of Buffalo reliever, Mike Kaelin. A 5'9" red-shirt freshman from Cheektowaga, New York, Kaelin came to Buffalo after a stellar career at Maryvale High School, where he was a two time ECIC All-Star and Honorable Mention All-WNY. The right hander was second in school history for strikeouts in a season and continued that success in college with five appearances out of the bullpen before an injury caused him to miss the rest of the year. Healthy and back in action, Kaelin has been a solid presence for the Bulls out of the bullpen this year, appearing in five games and compiling a 1.59 ERA and a 1-0 record. With his high octane fastball and familiarity with late inning situations, Kaelin figures to be another key role player in the Dutchmen bullpen this summer.