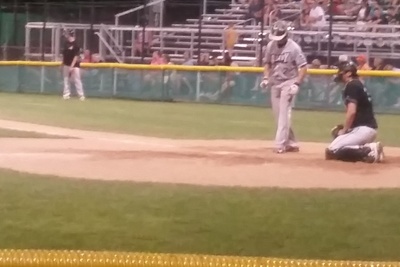 The Albany Dutchmen saw their season come to an end on Thursday night, dropping a 3-2 decision to the Mohawk Valley Diamond Dawgs. The Dutchmen nearly rallied with two runs in the top of the eighth, but fell short of the three runs scored by Mohawk Valley, which all came in the bottom of the fifth. Mohawk Valley advances to face Amsterdam in the East Division Finals, beginning Friday.
The game was scoreless through four and a half innings, as starting pitchers Jake Welch (Notre Dame College) and Nick Petrella (Skidmore) worked in and out of trouble to keep runs off the board.
Striking first were the Diamond Dawgs, who plated the three decisive runs in the bottom of the fifth inning. The inning began with a walk to Eric Strano (Rider), who then moved to second base on a one-out single from Joey Carcone (St. Rose). Mohawk Valley took the lead on an RBI single from Trey Stover (X), and extended the lead to 2-0 on an RBI groundout by Gus Craig (Columbia). The run scoring ended with a two-out single from Zach Collett (New Haven).
The game stayed 3-0 into the eighth inning, as the Dutchmen were able to back up their pitching with stellar defense, including a spectacular seventh inning catch in left field by Ernie Clement (Virginia).
The Dutchmen attempted to mount a rally in the eighth, plating a pair of runs. With one out in the inning, Danny Hrbek (Radford) singled, and a fantastic bunt from Clement was tossed well past the first baseman to put runners on second and third. After a strikeout and a walk to Sean Aspinall (Azusa Pacific), Cam Miller (Baylor) slapped a two run single through the right side of the infield to cut the Diamond Dawg lead to one run. Aspinall was stranded on third base after a strikeout.
Albany's bullpen was tremendous, recording the final five outs without allowing a hit. Jose Hernandez (Dean College), Austin Foote (Indiana), and Kyle Zurak (Radford) combined on the bullpen effort for the Dutchmen.
However, Albany was set down in the ninth inning to end the game and the season.
Despite the loss, the Dutchmen put together a successful 2014 campaign, advancing to the PGCBL Playoffs for the second year in a row. The Dutchmen found crucial victories in the final ten days of the season to make the Playoffs, and constantly found themselves battling back into ballgames, earning their moniker of the Capital City Cardiac Kids.