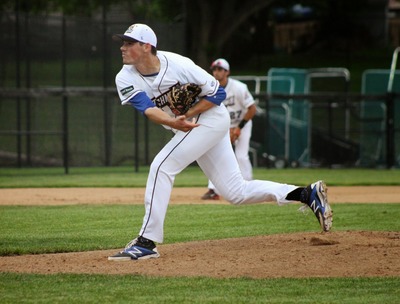 With all the talented young players that the Dutchmen will bring to Albany this summer, it became vitally important for the team to find established veterans to provide an impact on the field, as well as a calming presence off of it. It was a search that returned impressive results as the Dutchmen found veteran Dartmouth catcher Adam Gauthier, Oral Roberts' incoming JUCO transfer Slayton Vaughan, and returning Dutchmen pitcher, Jake Welch.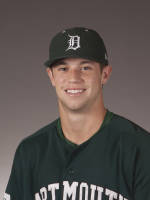 A junior catcher for Dartmouth, Adam Gauthier has formed part of a catching tandem for the big green for two straight seasons. A 6'0" 200 pound right-hander from Highlands Ranch, Colorado, Gauthier served as his high school captain as a junior and senior, leading his team to an 18-6 record and the 5A State semifinals as a junior, earning second-team all-conference honors as well as all-state honorable mention and being named to the Colorado Rockies Underclass All-Star Team. As a first year starter during his sophomore year at Dartmouth, Gauthier earned a stellar defensive reputation in thirteen starts, playing flawless defense behind the plate, without an error or passed ball. This season, he battled through multiple injuries to continue to impress both behind the dish and with the bat. In his starts since returning from injury, Gauthier is batting .364, with 25% of his hits going for extra bases, while also achieving a .382 OBP. His leadership behind the plate will help with the Dutchmen's talented pitching staff, but his progress with the bat could also prove to be a valuable asset come June.

Joining Gauthier as a veteran presence in the lineup will be North Central Texas CC first baseman Slayton Vaughan. A 6'7" 230 pound right-handed hitter from Azle, Texas, Vaughan has been an immediate contributor in his first collegiate season. As a fixture in the middle of the lineup, Vaughan is hitting .311 with 7 HRs, good for 3rd in conference, 36 RBIs, 34 R, and15 2Bs, the 5th highest total in the conference. A JUCO transfer who will be attending Oral Roberts next season, Slayton also accumulated praise during his high school career, being named Newcomer of the District as a sophomore, First-Team All-District as a junior, and All State, Star-Telegram Super Team, and THSBCA All-Star as a senior. An intimidating presence in the batters box, and a leader out of it, Vaughan figures to be a mainstay in the Dutchmen lineup in 2015.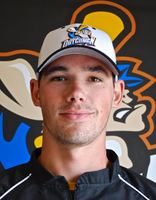 Another veteran joining the Dutchmen should be a familiar face. After a stellar showing last summer, Spencerport, New York native Jake Welch will be returning in 2015. In five starts last summer before sustaining an injury, the 6'6" 240 pound right-hander had compiled a 3-1 record with a .286 ERA and 16 strikeouts over 28-plus innings. He continued that success into the early part of his 2015 school season, going 1-0 with a 1.04 ERA before being sidelined by an injury. Before the rash of injuries, Welch was a near dominant starter. In 2014, he earned First Team All Mountain East Conference honors after an outstanding season where he struck out 80 batters in 77.1 inning of action, posted a 7-3 record with a 2.79 ERA, and tossed seven complete games, including four shutouts and limiting opposing batters hit just .206 against him. Hoping to regain form heading into his red-shirt senior year, Welch looks to again show Dutchmen fans what type of ability he possesses.