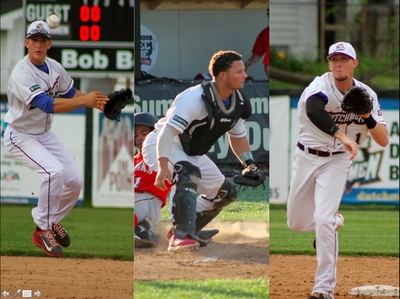 With the announcement of the 2015 NCAA Tournament field on Monday, 21 former and current Albany Dutchmen players on 13 teams saw their squads selected for regional play. 11 of the 16 regions in the tournament feature at least one Dutchmen player.
The most notable region for Dutchmen is the Nashville Regional, which contains ten Dutchmen on three teams. The regional, hosted by Vanderbilt, will feature Radford, Indiana, and Lipscomb. Radford's Danny Hrbek, Kyle Zurak, and Simon Palenchar will play Indiana Hoosiers Thomas Belcher, Austin Foote, and Demetrius Webb in the first game of the tournament, while the host Commodores face a Lipscomb team containing Adam Lee, Josh Lee, Ben Lee (redshirt) and Jamie Young, who all suited up for Albany in 2014.
Two Dutchmen received national seeds, and will host regionals this weekend. Those players are Michael Bollmer from No. 3 Louisville and Josh Ferry from No. 6 Illinois. The teams earned national seeds for stellar seasons thus far, and would host a super regional should their team advance from the regional round.
Other Dutchmen, current or former, qualifying for the Tournament included: Patrick Hisle (Maryland, No.3 seed in Los Angeles Region), Ernie Clement (Virginia, No. 3 seed in Lake Elsinor Region), Mitch Cavanagh (St. John's, No. 4 seed in Stillwater Region), Morgan Phillips (College of Charleston, No. 2 seed in Tallahassee Region), Grayson Lewis (Rice, No. 2 seed in Houston Region), Zach Remillard and Anthony Marks (Coastal Carolina, No. 2 seed in College Station Region), Mike Triller (Clemson, No. 3 seed in Fullerton Region), and Michael Fitzsimmons (Ole Miss redshirt, No. 2 seed in Los Angeles Region).
Regional play begins across the country on Friday, and Super Regional play begins the following Friday. The Dutchmen wish all former and current players the best of luck in NCAA postseason play. The Dutchmen also congratulate Nick Jewett (Trinity U.), Tyler Fries (Wilmington), Brandon Nylin (Herkimer CC), and Jake Shortslef (Herkimer CC), who all finished their seasons in World Series play in Division II, Division III, and NJCAA Division III respectively. Jewett led his team with a home run in an elimination game, going 3-for-5 with two RBIs and two runs scored. Nylin also made a major impact for Herkimer, earning a victory in the team's first game.