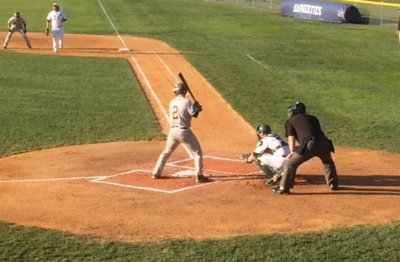 SAUGERTIES, NY—The Albany Dutchmen (5-4) scored seven run in the first three innings and nine overall, pounding out 12 hits to pulse the team's wire-to-wire 9-2 victory against the Saugerties Stallions (5-5).
The Dutchmen also benefitted from seven walks distributed by Stallions pitching, giving Albany starter Mike Reitcheck (Penn) a three-run cushion before he threw his first pitch. Four of those free passes came around to cross home plate for Nick Davey's squad.
In his first start with the Dutchmen, Reitcheck challenged hitters with his fastball, moving it all over the strike zone to baffle the tardy Stallions swings. Reitcheck departed after five innings, relinquishing one earned run, walking two and striking out four.
Nick Davey only needed one reliever tonight, thanks to a scintillating performance from reliever Andrew Giddens (Ave Maria). After Reitcheck dominated with his fastball, Giddens snapped curveballs and sliders with ease, throwing his off speed for strikes throughout his four innings of work. Giddens earned a save for his performance, in which five of his six strikeouts came from off-speed offerings.
Facing Austin Von Herbulus (College of Saint Rose) for the second time this season, Albany patiently waited out the Stallions starter, who struggled with his control from the get go. The Dutchmen scored three runs in the first inning off of two walks, a hit batsmen and one hit.
That lone hit was a double off the bat of Zach Remillard (Coastal Carolina). Previously a two-time PGCBL All-Star, in his first game in 2015 with the Dutchmen Remillard had two hits as tonight's designated hitter. Batting fifth for Coach Davey, Remillard also singled, stole second and scored in the top of the 3rd.
Von Herbulus lasted just two and a third innings, surrendering five hits, seven earned runs and four walks.
Three of Albany's 12 hits came from the number 9 man in Nick Davey's order, Adam Gauthier (Dartmouth). The Dutchmen catcher finished the day 3 for 4, including a 2-run single in the 3rd inning that pushed the Albany advantage to 7-0.
Albany continues their two-game road trip tomorrow in Little Falls against Mohawk Valley, where Jon Reid (Azusa Pacific) will look to earn his second win of the year. Reid was supposed to be Friday Night's starter, throwing an inning before the lightning delay against Glens Falls.
The Dutchmen return to Bellizzi Field on Monday against the Utica Brewers. In addition to Mystery Monday, kids will eat free with paid admission into the ballpark.