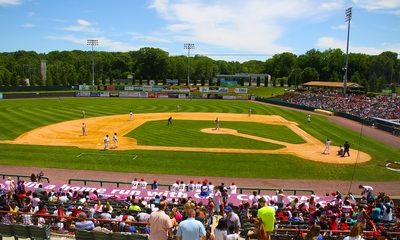 The Albany Dutchmen fell 6-3 in an exhibition game to the short-season A affiliate of the Houston Astros, the Tri-City ValleyCats on Wednesday afternoon at Joe Bruno Stadium in Troy. The Dutchmen gained valuable experience against professional players, playing level with the ValleyCats for much of the game.
The game started with a major bang for the visiting Dutchmen. After the first pitch of the game hit Grayson Lewis (Rice), Hunter Boose (Georgia Regents) drilled a two-run home run into the Tri-City bullpen in left field. The homer was unofficially the first of the season for Albany.
The 2-0 lead lasted to the fourth inning, thanks to the pitching work of Gavin Wallace (Fairfield). The ValleyCats took the lead for good in the fourth, as four consecutive Tri-City hitters reached base. A Keach Ballard single followed by a Johnny Sewald single tied the game, and the ValleyCats went ahead on a sac fly by Drew Ferguson.
Another run would cross in the fifth inning against Albany reliever Liam Conboy (Susquehanna). A walk to Trent Woodward allowed a baserunner with one out, and Woodward scored on a single from Cesar Carrasco, who had three hits on the game. Conboy would then retire the next five hitters with three strikeouts.
Tri-City added runs in the seventh and eighth innings, on a Antonio Nunez sacrifice fly and an error, respectively.
The Dutchmen scoring concluded in the top of the ninth inning, as a leadoff double from Mike Bollmer (Louisville) turned into an Albany run on a groundout from Adam Gauthier (Dartmouth).
The Dutchmen added three more hits throughout the game, singles from Tyler Nelin (George Mason), Simon Palenchar (Radford), and Eric Mueller (Albany). Nelin also added an outstanding diving catch to snuff out a run-scoring hit for the ValleyCats.
Wallace was charged with the loss for the Dutchmen, while Harold Arauz picked up the victory in the exhibition contest, which saw 4,254 fans pack Joe Bruno Stadium and led to a festive atmosphere for baseball between the two Capital Region teams.
The Dutchmen return to PGCBL action Thursday night in Little Falls, as Albany battles Mohawk Valley for the second time this season as the front part of a home-and-home. The Dutchmen will look to use their experience against the ValleyCats as a launching pad for the remainder of the PGCBL season.
The Diamond Dawgs travel to Bob Bellizzi Field on Friday for the first time this season. Friday is Albany Clothing and Promotions Night at the ballpark, and fans will be able to procure an orange hard plastic Dutchmen solo cup courtesy of Albany Clothing and Promotions.