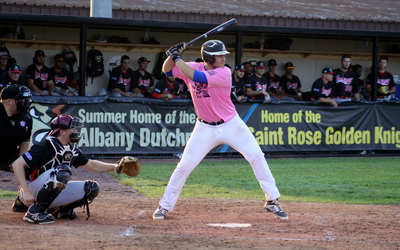 ALBANY, NY—The Glens Falls Dragons (16-15) scored eight runs in the top of the 3rd, sending 12 hitters to the plate against the Albany Dutchmen (12-17), building an insurmountable advantage at Bellizzi Field.
The game was scoreless through the first two frames before the Dragons opened up the scoring with their leadoff hitter in the 3rd. Ryan Hooper (UC Davis) homered down the left field line against Albany starter Mike Reitcheck (Penn). That began a stretch of eight straight Dragons reaching base, either from hits, walks or three Dutchmen defensive miscues in the inning.
With a runner on base following the Hooper homer, Jake Vieth (Tacoma CC) hooked an RBI triple in between Sean Aspinall (Azusa Pacific) and Adam Gauthier (Dartmouth), continuing his torrid hitting against Albany this season. Vieth then scored on a subsequent single.
Of the eight runs that crossed the plate in the frame, only two were earned runs charged to Reitcheck.
Even with the lopsided score, the Dutchmen offense may have emerged from a funk. Albany scored eight runs on 11 hits. Leading the charge was first basemen Slayton Vaughan (Oral Roberts), who went 3-4 and was on base four times. Vaughan drove in a pair in the bottom of the 5th, part of a three run frame that cut the deficit to 11-4.
Sporting pink jerseys apart of Albany's themed contest to raise funds to combat breast cancer, the Dutchmen bats did their best to emerge from the early deficit. But, when Albany looked to climb out of the deep deficit, the Dragons were content to let them slide back in.
After Albany's 3-run 5th, Glens Falls scored three times in their subsequent inning. They did it again in the top of the 8th after a productive bottom of the 7th for the Dutchmen.
Down 17-7 in the bottom of the 9th, Zach Remillard (Coastal Carolina) smoked a double to right-center, plating Gauthier, who collected two hits and was on base three times out of right field.
A Michael Fitzsimmons (Ole Miss) pop out ended the contest; the first three-hour game Albany has participated in this season.
The Dutchmen will head on the road for a trio of contests—a double header tomorrow in Saugerties before taking a bus trip to Utica to battle the Brewers (13-18).
After a Monday off day, Albany returns to Bellizzi Field on Tuesday to take on these Glens Falls Dragons. It is Scout Night at the ballpark, when members of local boys and girls troupes will be recognized. In conjunction with the 7:05PM start, it is 2 for 2uesday in Albany.