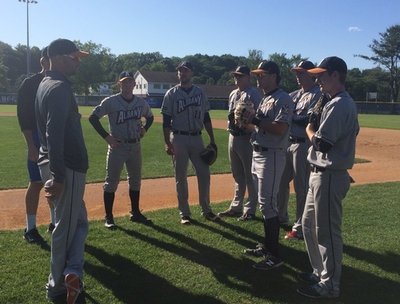 JUNE 9, 2016 – The Albany Dutchmen (4-2) defeated the Saugerties Stallions (4-2) by a score of 6-1. After suffering their second loss of the season on Wednesday against Amsterdam, the Dutchmen pitching shut down the Stallion bats, as Saugerties only managed 2 hits against 4 Dutchmen pitchers.
Evan Giles (Indiana State University) got the start for the Dutchmen and pitched a strong game over 4.2 innings. He allowed both Stallion hits while striking out 5 and walking 3 batters. Michael Maul (Trinity University) came in relief for Giles in the bottom of the 5th inning with the bases loaded and 2 outs. He managed to get Stallion left fielder Julius Saporito (Quinnipiac University) to ground out to Dutchmen 1st baseman Kyle Skeels (Coastal Carolina University) to end the 5th inning.
2 pitchers made their debuts for the Dutchmen on Thursday night. Drew Robertson (Baylor University) entered the game in the 6th inning after Maul hit and walked the first 2 batters of the inning. Although Robertson would allow a run on a wild pitch, he dominated the Stallion hitters with an aggressive fastball. He would strike out 4 batters and walk 1 in 2 innings of work. Troy Montemayor (Baylor University) pitched the final 2 innings for the Dutchmen and was equally as impressive as Robertson. Montemayor, a 1st team All-Big 12 selection, retired the final 6 Stallion batters in a row, striking out 4 of them.
Stallion right fielder Micah Riddick (SUNY Ulster), who was leading the PGCBL in batting average going into Thursday night, was held hitless by all 4 Dutchmen pitchers. He would go 0-4 with 3 strikeouts. The only Stallion hits were recorded by 2nd baseman Tyler Noe (University of Massachusetts Lowell) in the 2nd inning and Saporito in the 4th inning.
The Dutchmen batter took advantage of 6 Stallion errors, including 3 by Stallion catcher Andy Karlan (Palm Beach State University). Dutchmen left fielder JJ Shimko (University of South Carolina Upstate) went 2-4 with a single, a double, and a walk. He would score 2 runs and recorded his league-leading 7th stolen base. Dutchmen 3rd baseman Micah McHugh (University of Mississippi) went 1-4 with a double and a run scored. Dutchmen catcher Brent Alford (Augusta University) went 2-3 with 2 singles. Dutchmen center fielder Zach Durfee (Siena College) went 0-4, but reached base twice on a walk and an error. He would score both times.
The Dutchmen and the Stallions play each other again tomorrow on Friday, June 10th at Cantine Field in Saugerties. Game time is scheduled for 6:30 p.m. The Dutchmen play their next home game on Saturday, June 11th, when they play the Amsterdam Mohawks for the 3rd time this season. The Dutchmen are holding Sanavi Water Night for that game, as all fans in attendance will receive a free bottle of Sanavi Water. The Dutchmen will also feature Baseball Bingo on Saturday night.