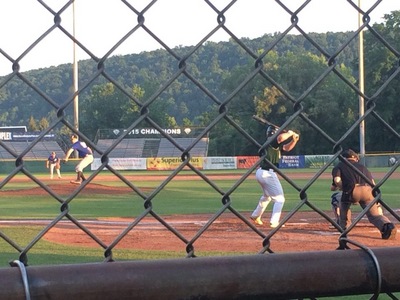 The Albany Dutchmen (13-12) defeated the Mohawk Valley DiamondDawgs (12-12) 3-2 Friday night in the first game of a four-game road trip for the Dutchmen.
Pitching was the story throughout, as each team managed only five hits apiece in the contest. Dutchmen starter Dylan D'Anna (Siena College) was excellent, going 6 strong shutout innings, allowing only 4 hits and 1 walk while striking out 2 batters.
The Dutchmen offense was quiet for the first three innings, as DiamondDawg starter David Palmer (University of New Haven) set the Dutchmen down in order in the first three frames. However, the Dutchmen would break out in the 4th, as back-to-back doubles from Jack Gethings (Fairfield University) and Justin Childers (Ohio Dominican University) put runners on 2nd and 3rd with only 1 out. Malcolm Nachmanoff (Stony Brook University) would follow with a RBI groundout plating Gethings, and a Kyle Skeels (Coastal Carolina University) strikeout would end the half, but not before the Dutchmen would take a 1-0 lead.
Albany would continue to take advantage of their opportunities in the 5th though, as Mychael Goudreau (Azusa Pacific University) led off reaching on a two base error. After he moved over on a Brent Alford (Augusta University) groundout, he scored on a Micah McHugh (University of Mississippi) sacrifice fly to give the Dutchmen a 2-0 lead.
The offense would continue in the 6th, as JJ Shimko (University of South Carolina Upstate) led off with a double and scored off Childers' second double of the game, giving the Dutchmen a 3-0 lead. Childers would be the only Dutchmen to finish with multiple hits, as he ended with two of the five Dutchmen hits.
Mohawk Valley would attempt a late comeback though, as in the bottom of the 8th Andrew Turner (Long Island University-Brooklyn) scored Michael Conti (Fairfield University) on his sacrifice fly. The rally would continue into the bottom of the 9th, as Michael Ketchmark (Dartmouth College) led off with a solo home run to cut it to 3-2 and Mike Martinez (Rutgers University) followed with a walk, but Dutchmen reliever Joe Pokrentowski (College of Saint Rose) would bounce back, striking out Tanner Leenknecht (Treasure Valley Community College) and getting Justin Fowler (Dartmouth College) to ground into a double play to end the ballgame and secure the victory.
The Dutchmen 1-2-3 hitters would combine to go 4-for-11 with 2 runs and an RBI, as Gethings would finish 1-for-3 with a run and a walk, and Childers would lead the whole lineup going 2-for-4 with his pair of doubles and the RBI. McHugh, hitting 8th, would finish 1-for-3 with an RBI.
Mohawk Valley will visit the Newark Pilots tomorrow night for a 7:05 contest.
Albany will continue their road trip tomorrow night, as they visit the Saugerties Stallions for a 6:30 first pitch.