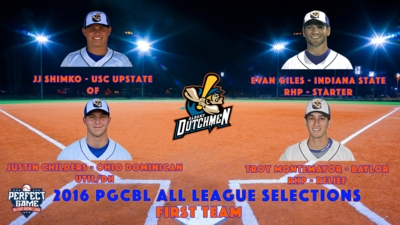 With the announcement of the PGCBL All-League Team, the Albany Dutchmen are proud to announce the selection of four players to this years team, quadrupling the number of first team selections from the 2015 squad. Justin Childers (Ohio Dominican University), JJ Shimko (University of South Carolina Upstate), Evan Giles (Indiana State University) and Troy Montemayor (Baylor University) all represent the Dutchmen on the First Team.
Shimko, the Dutchmen co-Player of the Year, had one of the best seasons in Dutchmen history, setting franchise records in at-bats (168), hits (57), and stolen bases (28). Shimko's record in hits in his record number of at-bats gave him the fourth best average (.339) in the history of the Dutchmen. He also tallied 72 total bases, good for third best in Albany history, and hit 11 doubles, tied for fourth in the record books. Shimko took 21 walks to go with 11 hit by pitches, and those combined gave him a .443 on-base percentage, the second best in Albany history. Shimko took advantage of his on-base opportunities to score, registering 31 runs, tying a pair of Dutchmen players for second place in the record books.
Childers, the "other" co-Player of the Year, had an incredible year himself for the 2016 Dutchmen, inserting himself into the Dutchmen record book under three categories. The utility man tied second in at-bats (165) and runs batted in (31), and had the third most hits in Dutchmen archives with 57. He posted a .321 average with team-highs in home runs (3) and RBIs (31). Childers also stole 14 bases to go with 24 runs scored and nine doubles. Childers led the team with a .430 slugging percentage, and his .407 on-base percentage gave him a .837 OPS, good for second on this years team behind Shimko.
Pitching wise, Evan Giles (Indiana State University) had a more than solid year, as the Dutchmen Pitcher of the Year put up a 1.50 ERA to put him in third in Albany Dutchmen history. The Sycamore product also struck out 37 in his 42 innings of work, tallying a 1.14 WHIP and an incredible .200 BAA. Giles' 42 innings came in only eight games, giving him over five innings of work on average per outing, most on this years team.
Coming out of the bullpen, Troy Montemayor (Baylor University) had arguably the best season for a relief pitcher in Dutchmen history, posting unbelievable numbers in the late innings of games. The Baylor Bear had the second most saves in a season with seven, posting a minuscule 0.52 ERA, with a .219 BAA and an astounding .094 WHIP while striking out 25 batters in only 17 innings. Montemayor also threw a 2.72:1 strike to ball ratio this season.

The Dutchmen send their congratulations to these four players for earning the well deserved recognition on their magnificent seasons.