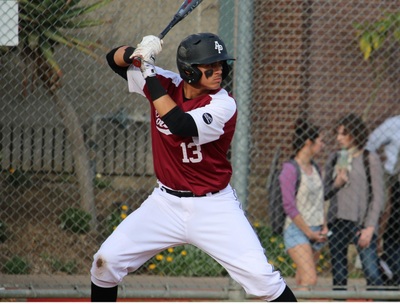 Throughout the history of the Albany Dutchmen, players from Division II and III schools have littered the roster. Two schools have been especially linked with the Dutchmen, due to the amount of quality players that have worn an Albany uniform. This season, the Dutchmen connection with Azusa Pacific University and Trinity University continues, as the franchise welcomes Nick Estrella and Griffen Herrera (Azusa Pacific) and Jeff Lonnecker (Trinity) to the 2017 roster.
Nick Estrella comes to the Dutchmen following a successful freshman season that is still in progress. Estrella has started 43 of the 47 games this season for the Cougars, who are currently ranked 12th in the nation in Division II by Perfect Game USA. At the plate, the infielder has 35 hits with four home runs and 22 runs batted in. Estrella has also been perfect in five stolen base attempts. He has also made two scoreless appearances on the mound. In high school, the freshman was named Player of the Year in the Tucson area by the Arizona Daily Star, and took Ironwood Ridge High School to the state semifinals. He was ranked as one of the top ten third basemen in Arizona, as well as one of the top 75 overall players.
Griffen Herrera, an outfielder and high school teammate of 2016 Dutchmen Kale Morton, is the second Azusa Pacific Cougar heading to Albany. The Glendora, California native has appeared in 14 games this season, including three times as a starter. He made an immediate impact for the Cougars on the opening day of the season, going 2-for-3 with two runs batted in as APU defeated Cal State Monterey Bay. Herrera was a highly heralded player out of high school, and was ranked among the best 100 outfielders in the nation. While at Glendora, he recorded over 100 hits, hitting .350 for the Tartans.
Jeff Lonnecker joins the Dutchmen from the defending Division III national champions, the Trinity Tigers. The sophomore righthander made 10 appearances for the Tigers, recording a 3-0 record. He struck out 27 hitters over 22.1 innings, and made three starts. He started on the first day of the season for Trinity, tossing 6.1 innings with seven strikeouts in a victory over Millsaps. He made postseason appearances for the Tigers during their run to the national championship in 2016. Lonnecker is a native of Bellaire, Texas, and played his high school baseball at St. John's School.
These three players follow Dutchmen greats at their respective schools, such as former Albany Player of the Year Sean Aspinall and 2016 MLB Draft pick Jon Reid from Azusa Pacific and professional baseball players Ben Klimesh, Chris Bianchi and Nick Jewett from Trinity. These players, who all play with former Dutchmen at school, will be well versed in what it takes to succeed in the PGCBL, and will provide further options for head coach Nick Davey entering the 2017 season.