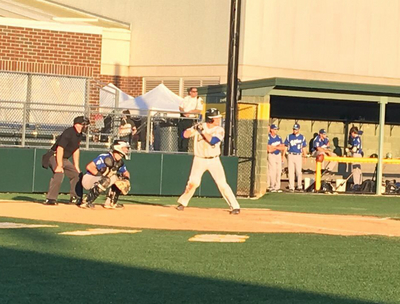 ALBANY, N.Y. - The Dutchmen were quick to forget about Thursday's loss, scoring three runs in the first inning Friday against Utica.
With a three run cushion to work with, Greg Marino (Stony Brook) pitched 4.2 innings and allowed just one run. Deaven Phillips (Ave Maria) came on in relief and pitched 2.1 innings of no-hit ball with two strikeouts.
But the run support would increase from three, the Dutchmen scored six more runs to secure its second win of the season.
Brandt Holland (North Alabama) went 2-4 with a single, a double, two RBI's and two stolen bases. He was voted Friday's Albany Clothing and Promotions Player of the Game.
Holland says his team was extra motivated to win Friday following Thursday's late loss to the Trail Blazer's.
"Coming off a loss, you have to come out and have a great attitude and I think everyone did a great job of that tonight," Holland said.
Chase Allen (Limestone) added three hits, two runs and one RBI for the Dutchmen and Trace Tyre (Ole Miss) added a double and an RBI.
The losing streak for Utica increased to three after a 3-0 start to the season. Brendan McNerney (RPI) took the loss for Blue Sox allowing five earned runs off six hits in four innings of work.
Cole Pursell (Williamette) was the lone bright spot for Utica going 3-5 with two singles, a double and one RBI.
The Dutchmen are back in action Saturday traveling to take on the Saugerties Stallions with first pitch set for 7:05 p.m. at Cantine Field.
Albany will next be home at Siena Field to take on the Adirondack Trail Blazers Sunday at 5:05 p.m. for SEFCU Heroes Night where all Military, Police, Fire, EMT and their families will receive free admission and all fans will receive a baseball poncho courtesy of SEFCU.
Sunday's game will also feature the Hudson's Crew Music Series, the Dave & Buster's Street Team, a Cabot Cheese giveaway and a Johnny Cupcakes Pop-up shop.