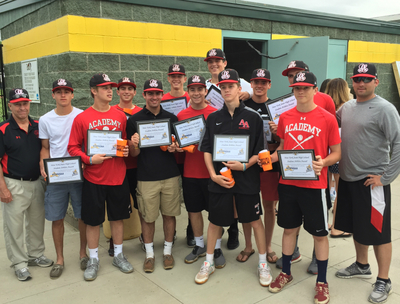 June 15th, 2017
In the bottom of the ninth with a runner on third and two outs Nick Gallo (Oklahoma St.) ripped a ball over the left fielder Bronson Grubbs (Sacramento St.) head that he had to dive for at full speed to make an unbelievable catch, keeping the game tied at three.
The game against the Mohawk Valley Diamond Dawgs had to be suspended after nine innings due to darkness, play will resume at 3:30 p.m. on July 26th
Albany was trailing Mohawk Valley 1-0 heading into the bottom fourth on NYSPHSAA high school student athlete night, but Chase Allen (Limestone) changed that ripping a single into left field to tie the game.
Later in the inning, Allen would score attempting to steal third and then advancing home on a throwing error by Nico Ramos (Siena) giving the Dutchmen a one run lead.
Mike Pepio (East Stroudsburg) started for the Dutchmen and put together a solid outing going six innings, allowing one run on four hits and striking out five.
Pepio, who was named Thursday night's Albany Clothing and Promotion's player of the game, says the mid game adjustments that he made with Coach Davey were the key to his success.
When Pepio exited the game after the sixth, he was replaced by Roel Garcia (Rice) who pitched scoreless frames in the seventh and the eighth. But it was a different story for Garcia in the ninth inning.
With two outs in the top of the ninth Garcia gave up a two run double to Joe Engel (Columbia) to tie the game at three.
Albany is currently riding a five game winning streak in PGCBL play despite not finishing tonight's contest.
Albany is next in action Saturday taking on the Blue Sox in Utica with first pitch set for 6:30 p.m.