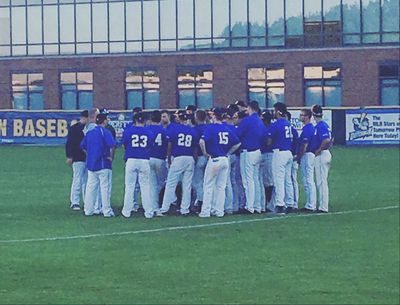 The Albany Dutchmen (10-4) took their second loss in three games, falling to the Saugerties Stallions (9-5) by a final score of 9-2.
The evening immediately started on a bad note for the Dutchmen when starting pitcher Daniel Fischer (Louisville) exited with an apparent injury after not retiring any of the three batters he faced. Two inherited runners scored off of relief pitcher Nick Bruno (Siena) to give the Stallions an early edge.
The Stallions struck again in the third inning on a two run home run by Tyler Kelder (St. Bonaventure) off of Bruno to give them a 4-0 edge.
The runs did not end there for Saugerties, as they continued to add on with a three run fifth inning after scoring two runs in the fourth. The Stallions used three consecutive base hits by Patrick Lagravinese (Albany), Jeff Palczewski (Buffalo), and Nick Campana (Hartford) to make their lead 9-0.
The Dutchmen finally found some production late in the ballgame scoring runs in the seventh and eight innings. The highlight was Nick Gallo's solo home run in the eighth, his first of the season for Albany. Gallo had a productive night at the plate, garnering two hits in four at bats.
In what was a rough day for the Dutchmen pitching staff, Mac Welsh (Louisville) and Justin Bureau (Ave Maria) put together some positive momentum at the end, with two scoreless innings combined to finish off the ballgame.
The Stallions' balanced offensive attack proved too much for the Dutchmen, as eight out of nine starters had at least one base hit. Kelder led the way with a three for five effort with three RBI.
Avery Short (Siena), thoroughly enjoyed his first summer appearance at his collegiate home ballpark, tossing six scoreless frames, striking out three, and picking up the win.


Box Score