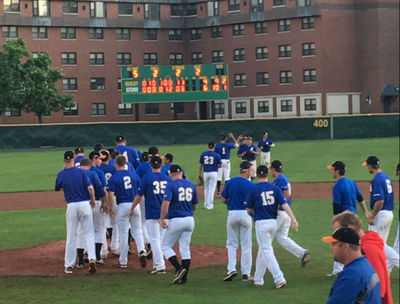 The Albany Dutchmen (11-7) came back from a big error to stun the Glens Falls Dragons (7-13) by a final score of 6-4.
The Dragons battled back from a one-run deficit in the seventh inning, as with Brandon Torres (SUNY Oneonta) at the plate with one out and Matt Hamel (Siena) on first base, a wild pitch allowed Hamel to advance to second. Torres then hit a popup fell as Brant Holland (North Alabama) was charged with the error and Hamel came in to score.
The Dragons then took the lead in the eighth inning when Anthony Vaglica (LIU Post) blasted a no-doubt home run to left field off of Matt Pierce (Siena).
Albany was down but not out as they fought back for three runs to retake the lead in the bottom of the eighth inning. With two outs and only one man on base, the Dutchmen strung together three consecutive singles. Nick Gallo's (Oklahoma State) single, which scored Colin Kaucher (Ohio Dominican) tied the game. Holland's single gave the Dutchmen the lead, as he atoned for his error in the seventh inning. Zach Durfee (Siena) added the final run of the frame with a RBI single of his own.
Despite the error, Holland had a monstrous day at the plate, going two for five with three RBI. Holland's two-run home run to left field in the sixth inning gave the Dutchmen a one run lead.
Albany received a quality outing from starting pitcher Jeremiah Burke (Georgetown). Burke lasted six innings, allowing only two runs and striking out five batters while keeping the Dutchmen within striking distance of the Dragons.
The Dragons were unable to hold their early lead, as they scored the first two runs of the game when Jared Drizin (Bucknell) scored on a wild pitch in the second inning and Dalton Ney (Lee) homered to left field in the fourth inning.
Alex Phillips (Bellarmine), dominated at the beginning of the game by tossing four consecutive frames to start off the ballgame. He began to struggle later in the game, giving up a combined three runs in the fifth and sixth innings, as Phillips was unable to make it out of the sixth inning.
Sean Boyle (Dallas Baptist) pitched the ninth inning for the Dutchmen to record the save, his first of the season.
Matt Hamel (Siena) had an overlooked effort in Glens Falls' loss, going three for four in his collegiate home stadium.
Pierce was the winning pitcher for Albany. He now has a perfect 4-0 record on the mound.
The Dutchmen will hit the road for four consecutive road games, beginning tomorrow against Adirondack at 7:05 p.m. Albany will return home on July 1st to take on the Oneonta Outlaws. The game will mark Werner Ladder Night, and will also feature the Dutchmen mascot's birthday party, the Dave & Buster's Street Team, and CSEA Member VIP Night.