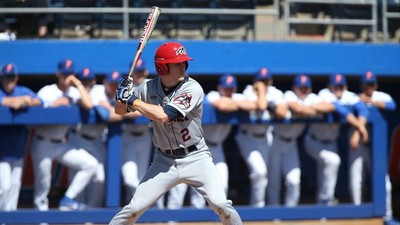 April 10, 2018
The Albany Dutchmen are pleased to announce the signings of three players from New York State, continuing the strong connection between the Dutchmen organization and the Empire State. Joining the team this summer is shortstop Nick Grande, infielder Nick Jacques, and pitcher Ryan Greco.
Grande, Stony Brook's best offensive player this season, joins fellow Seawolve Greg Marino on the Dutchmen, Stony Brook's best pitching asset. Both Jacques and Greco have prior experience playing in the Perfect Game Collegiate Baseball League in 2017, with Glens Falls and Onondaga respectively.
Grande has played a pivotal role for the Seawolves this season, currently sitting in first place atop the America East conference standings.
Grande leads the team with a .394 batting average and 41 hits this season. He is tied for first with three home runs as well as third in RBIs with 16. In their last game versus Maine on April 8, Grande had four hits from the leadoff spot in their 5-2 win over the Black Bears.
He has also won two straight America East Conference Player of the Week awards on March 27 and April 3, batting .533 during their four games last week. Grande, who has now recorded multiple hits in seven straight games, also drove in three runs and scored three times.
In his freshman year last season, he batted .262 with 12 RBIs and 28 hits to go along with a .380 on-base percentage.
Before his time with the Seawolves, Grande won the Suffolk County Silver Slugger Award and second team all-state honors, batting .529 his senior season at Smithtown West High School. He was named a three time All-League selection and also helped lead the Bulls to league titles in 2014 and 2016.
Jacques has been one of the most consistent hitters for the Le Moyne Dolphins this season, currently batting .297 with 3 home runs, 16 RBIs and 30 hits in 2018. In 2017, he finished with eight RBIs in 22 games played for the Dolphins
He also has experience playing in the Perfect Game Collegiate Baseball League as a member of the Glens Falls Dragons during the 2017 season. In 29 games with the Dragons, Jacques finished the season with seven RBIs in 29 games.
His last name may sound familiar as he is the brother of Marisa Jacques, the sports director at Spectrum News in Albany. She graduated from Catholic Central High School in Troy along with Dutchmen head coach Nick Davey.
A native of Ballston Lake, NY, Greco attended Shen High School in nearby Clifton Park.
During a strong 2017 campaign, Greco finished with a 2.55 ERA in seven appearances for the Brockport Golden Eagles. In 17.2 innings, he had 13 strikeouts and only allowed five runs all season.
Like Jacques, Greco also has experience playing in the Perfect Game Collegiate Baseball League, where he spent the 2017 season with the Onondaga Flames. He had 20 strikeouts in 15.1 innings pitched over thirteen appearances for the Flames.
In 2016, Greco struck out eight batters in five innings during five appearances for Brockport.
Greco is a graduate of West Genesee High School in Camilus, N.Y., where he was a Second-Team All-League selection.
The Dutchmen are ecstatic to have three players with baseball experience at the collegiate level and two of which have played in the PGCBL joining the team for the 2018 season at Siena Field.