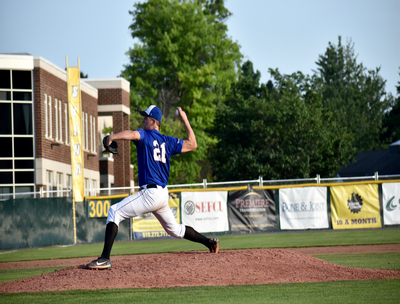 ALBANY, N.Y.- Ryan Greco (Brockport) and Max Cioffi (Ole Miss) combined to throw a three-hit shutout as the Albany Dutchmen (11-10) defeated the Jamestown Jammers (18-5), 1-0, on Tuesday.
The lone run in the game came in the seventh when newcomer John Malcom (Vanderbilt) ripped a line drive single to center field to score Brandon Seltzer (Palm Beach Atlantic) who led off the inning with a double and moved to third on a failed pickoff attempt.
Malcom finished 1-for-3 with the game winning hit and a stolen base in his Dutchmen debut. The recent high school graduate out of West Bloomfield, Michigan will attend Vanderbilt University in the fall and recently starred in the 37th Annual Michigan High School Baseball Coaches Association All-Star Game at Comerica Park in Detroit.
Greco started for the Dutchmen and tossed five innings of one-hit ball while striking out six. He surrendered three walks. Cioffi earned the win by pitching four innings of shutout relief while surrendering two hits and no walks with three punch outs.
In his first start of the season, Connor Ryan (Mercyhurst) also pitched five innings of one-hit ball for the Jammers. He had a season-high eight strikeouts and walked one while facing just two over the minimum.
J.J. Dunn (St. Anselm) took the loss for Jamestown. With Seltzer at third and nobody out, he induced a groundout before Malcom's single.
The Jammers' best chance to score came in the first inning when they put two runners on thanks to a couple walks. In the fifth, Dailin Lee (UC Irvine) singled and with two outs stole second and moved to third on an overthrow but was stranded there when Greco retired his final batter of the night with a strikeout.
Cioffi allowed just one runner on base the rest of the way and retired the final eight hitters in a row to complete his own victory.
The Dutchmen will be off on Wednesday before returning home on Thursday for a 5:05 start against the Geneva Red Wings (9-15).
Jamestown will conclude their road trip on Wednesday at Saugerties for a 7:05 first pitch.