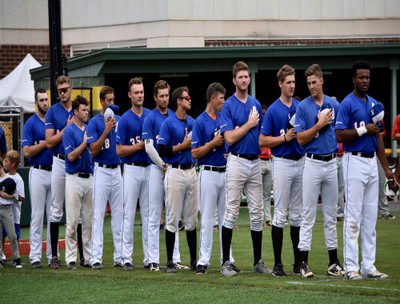 ALBANY, N.Y.- The Amsterdam Mohawks (20-14) defeated the Albany Dutchmen (17-14) 8-0 in a game that was called in the top of the seventh inning due to an injury after an Amsterdam player was hit by a pitch.
He was attended to immediately by on-hand medical support and treated by paramedics when the ambulance arrived. He was transported to a local hospital for further evaluation.
After a delay of 20 minutes, the decision was made to call the game with the Mohawks earning an 8-0 victory.
Amsterdam took a 1-0 lead in the first inning after East Division All-Star Elvis Peralta (Marshall) hit a one-out triple and scored one batter later on a Michael Ludowig (St. John's) RBI groundout.
Mike Antico (St. John's) gave the Mohawks a two-run advantage with an RBI groundout in the third.
In the fifth, Ludowig singled with two outs and after stealing second, he scored on a pair of throwing errors.
The Mohawks batted around and scored five times in the sixth inning on the strength of three singles, three errors, and two walks.
Zane Stephens (Mississippi State) threw a three-hit shutout over six innings for the win. He allowed four walks and struck out eight.
Zach Merchant (Southern New Hampshire) started and took the loss for the Dutchmen. Over five and a third innings, he allowed five runs, four earned, on eight hits. He struck out two and walked none.
Justin Foscue (Mississippi State) went 3-for-4 for Amsterdam with a run scored. Joe Genord (South Florida) finished 2-for-3 with a walk and a run scored.
Brandon Seltzer (Palm Beach Atlantic) and Jerry Huntzinger (Seton Hall) each went 1-for-2 with a walk and a stolen base.
The Dutchmen will return home on Sunday for the Eighth Annual Pink Game to benefit the American Cancer Society and Susan G. Komen Upstate NY. The Glens Falls Dragons will be in town for a 5:05 first pitch.
Amsterdam will travel to Mohawk Valley on Sunday for a 4:45 start.
The Albany Dutchmen would like to send their thoughts and prayers to the entire Amsterdam Mohawks organization.