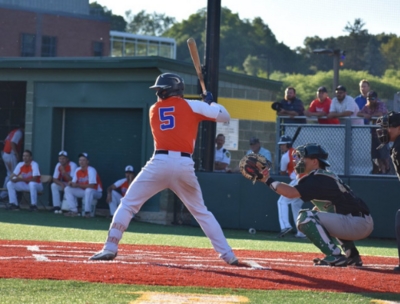 Monday, March 25th, 2019
Trace Norkus (North Florida, '17 Dutch): Norkus has helped the Ospreys on the mound in 3 games this week, which were all wins. In the first win of the week versus South Florida, the righty reliever threw a season high 4.0 innings with the following: 0 R, 5 K, 1 BB, 2 H. Norkus also picked up his 4th save of the season in a win over Florida Gulf Coast. On the season, the senior has appeared in 12 games, throwing 18.2 innings, and holds a 2.89 ERA.
Jack Gethings (Fairfield, '16 Dutch): The senior infielder leads the Stags with an eye popping .390 BA, starting in all 19 of the team's games. In a 3 game series win over Iona, Gethings was a combined 6/10, including 2 doubles and a triple.
Nick Grabek (Fairfield, '18 Dutch): While Gethings is getting it done at the plate, Grabek is doing likewise on the mound. On Sunday, the sophomore right handed reliever helped close out the series, picking up his third save of the season in 1.0 IP to finish out the 3-0 win. His season stat line includes: 7 APP, 10.0 IP, 2.70 ERA, 3 SV, .188 BAA.
Jack Owens (Bryant, '17 Dutch): The Bulldogs relied on Owens to throw 2.2 scoreless innings to pick up a win over Central Connecticut. He recorded 5 strikeouts and didn't allow a hit. In 8 APP and 8.1 IP on the season, he has not allowed a single run scored.
Kyle Skeels (Coastal Carolina, '16 Dutch): Becoming a regular in our recaps, Skeels came up huge for the 18th ranked Chanticleers when he belted a two-run, walk-off home run to beat Troy, 9-7. In the game, he was 4/5 at the plate with 2 RBI and 2 R. Skeels is hitting .321 on the season, and has played in 23 of 24 Chants' games.
Lucas Dunn (Louisville, '18 Dutch): Another regular on the recap page, Dunn crossed the plate as the winning run in a walk-off winner for the 12th ranked Cardinals in a 5-4 win over Georgia Tech.