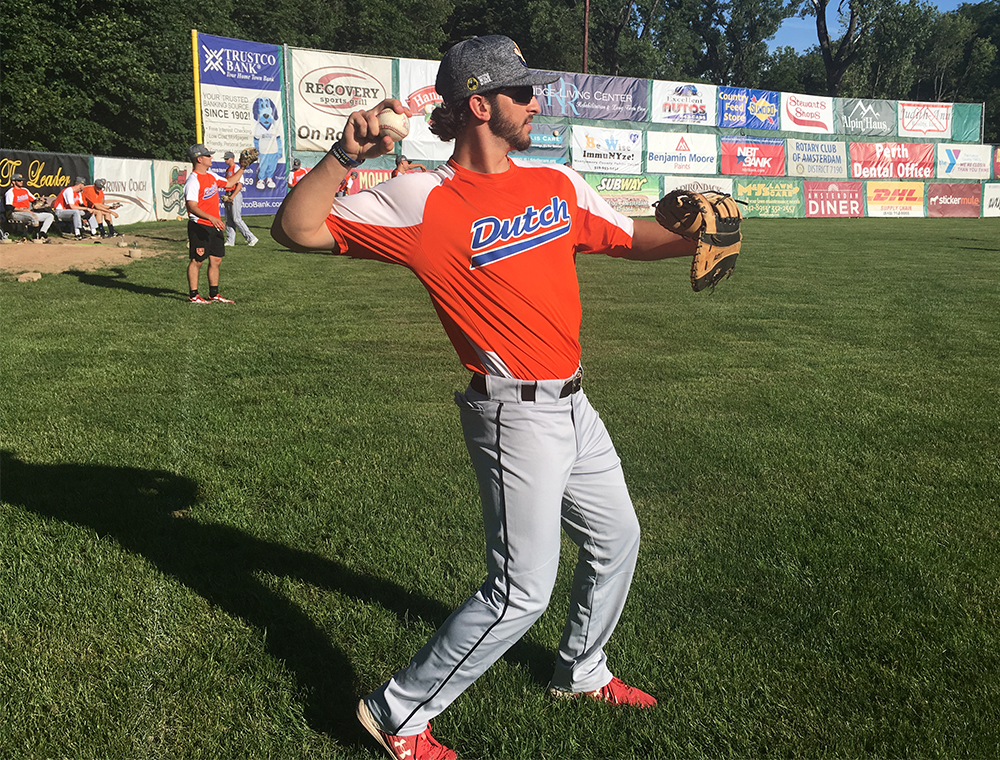 AMSTERDAM, N.Y. – A five-run third inning by the Amsterdam Mohawks (15-3) propelled them to a 10-4 victory over the Albany Dutchmen (10-8).
Billy Price (Virginia) started the game for Albany and struck out five of the first six batters he faced. With a 1-0 lead, he started the third with a walk and then allowed a home run to Geordan Blanton (Marshall). Rook Ellington (Kentucky) hit a double right after and scored after advancing to third on a wild pitch and scoring after the ball got away from Luke Gold (Boston College). Two more doubles scored the next two runs. Price went 3.2 innings and allowed four hits, six runs, three earned. The lefty did record seven strikeouts to increase his season total to 12.
"He was ahead in most of the counts but just didn't put the hitter away," said Dutchmen Head Coach Nick Davey. "Finishing the at-bats is what we need to improve on."
The Dutchmen scored one run in the fifth and sixth inning. The fifth inning was led off by Tommy Pellis (Seton Hill) who blasted his third home run of the season. Both innings ended with runners left in scoring position.
"We have to improve on capitalizing on fastballs early in the count," said Davey. "[Leaving runners in scoring position] has been our Achilles heel this season."
In the bottom of the sixth, Ellington hit an RBI double against Aaron Dona (St. Thomas Aquinas) and then DJ Poteet (Wake Forest) hit a two-run homer off new pitcher Blake Bales (Virginia). With Albany down by seven in the top of the ninth, Josh Hall (Ole Miss) hit a sacrifice fly to bring home Chris Seng (Louisville) for his ninth RBI in eight games. Albany did not score again.
Albany is now 1-2 against Amsterdam this season and sit five games behind the Mohawks for first place in the PGCBL East Division. The Dutchmen have been knocked out by the Mohawks in the PGCBL playoffs in two of the past three seasons.
"I think we have the team to beat Amsterdam," said Davey. "I think this is the best team we've ever had; I just need them to want more."
The Dutchmen's next game is Wednesday, June 26th against the Glens Falls Dragons with first pitch set for 7:05 p.m. For tickets and more information, visit dutchmenbaseball.com.