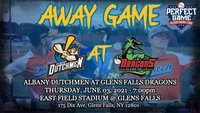 The first game of the 2021 Albany Dutchmen season was postponed due to rain in the fifth inning in Glens Falls. The game was suspended in the top of the fifth inning, with the Dutchmen in the lead, 10-1. Today's game will be finished on Tuesday, June 8th when the Dutchmen return to Glens Falls for the remainder of the game as well as the regularly scheduled nine inning game.
Tommy Kretzler (Brockport) got off to a hot start for Albany as he was 2-3 with 2 doubles and 4 RBIs on opening night. Isaac Humphrey (Louisville) hit the first home run of the Dutchmen season in the 5th inning as his solo shot was the lone home run of the game.
The Dutchmen scored 10 runs on 4 hits on the day, as the Glens Falls pitching staff were able to limit hits but had control issues in the form of seven walks to Dutchmen batters. The majority of Dutchmen runs came in a 6 run 4th inning in which Humphrey (Louisville), Ben Lavery (St. John Fisher), and Jack Peterson (Trinity) all scored on walks. Bryce Jeske (Elon) scored on a passed ball and Kretzler (Brockport) capped it off with one of his 2 RBI doubles.
On the mound, Anthony Amoroso (New Paltz) worked himself into multiple jams as he gave up six hits in four innings, but successfully escaped most of them unharmed as he only allowed one run to Glens Falls.
Nick Marola (UMass-Lowell) shined for the home team on opening night, as he was 2-2, and Jonathan Caffarella (Iona) had the lone RBI on the night for the Dragons.
The Dutchmen return to action tomorrow night on the road at Amsterdam for a 6:35 game against the Mohawks. Albany opens up their home schedule at their new home field of Dutchmen Field at Keenholts Park on Saturday night in a doubleheader beginning at 5:00 against the Saugerties Stallions.