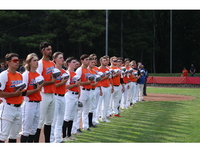 Monday, June 7th, 2021


The Albany Dutchmen (1-3) fell to the Oneonta Outlaws (1-3) 2-1 in 10 innings Monday night on the road. It was a pitchers duel throughout the night as both staffs gave up just one earned run each.


The Dutchmen started Jake Manderson (Georgetown College) on the bump, while the Outlaws matched with Kieran Finnegan (Oswego State). Both had strong outings, Manderson went 3.0 IP, 3 H, 1 R, 0 ER while Finnegan threw 7.1 IP, 3 H, 1 ER.


The rest of the Dutchmen staff combined for 6.1 IP giving up just one run. Mike Poirier (St. John Fischer College) went 3.0 IP, Chase Carroll (Univ. of Albany) went 2.1 IP, and Freddie Callo (Ulster CC) finished the game going 1.0 IP.


The scoring was opened by the home side in the bottom of the 2nd when AJ Gaich (Yale Univ.) crossed the plate on a fielder's choice to give the Outlaws the 1-0 lead.


The score would stay that way until the top of the 8th when the Dutchmen struck back to tie the game. Ben Lavery (St. John Fischer College) recorded the only RBI on the night for the visitors recording a single that plated Ty Gallagher (Herkimer CC) to even up the score.


Neither team would score in the 9th and the Dutchmen were unable to score with runners in scoring position in the top half of the 10th, paving the way for a walkoff. Gunnar Johnson (Wofford College) recorded the game winning RBI in the 10th on a walk to earn the win for the Outlaws.


The Dutchmen are back in action at 5:30 pm on Tuesday against the Glens Falls Dragons. They start by resuming the game previously postponed on Thursday June 3rd due to rain in the 5th inning. The Dutchmen will resume that game with a 10-1 lead and complete the originally scheduled 9 inning contest before playing a 7 inning game to complete the day.