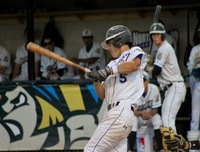 Ernie Clement was in an Albany Dutchmen uniform seven summers ago, and on Tuesday night he picked up his first major league hit. June 15th, 2021 will be a historic date for Ernie Clement as he picked up his first MLB hit in the fourth inning for the Cleveland Indians in a 7-2 win over the Baltimore Orioles. Since his days with the Dutchmen, Clement has always been a team first guy.
"I was trying to do whatever it took to help my team win, glad I could come through for these guys and it was an amazing moment in my life that I'll never forget," Clement said.

The Rochester native was fresh out of Brighton High School in 2014 when he came to Albany as a University of Virginia commit. Clement batted .322 with five extra base hits and nine RBIs in 19 games for the Dutchmen. Clement was named to the All-College World Series team as a freshman when he helped lead Virginia to a title, was a third team All-ACC selection as a sophomore and junior, then was drafted by the Indians in the fourth round of the 2017 draft.

Clement came up big when he started the rally for the team that drafted him on Tuesday night in the form of his first MLB hit. Clement has struck out in seven percent of his plate appearances in his first three pro seasons and Clement being a tough out seems to be what will help him at the major league level, which started Tuesday night.