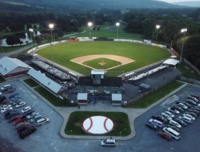 Wednesday, June 16, the Albany Dutchmen took care of business on the road in Oneonta, beating the Outlaws 9-2. It was a great day for Dutchmen pitching, the staff struck out a combined 15 batters on the night.

The Dutchmen got a strong start out of Jack Mahoney (Manhattan). Mahoney went 5.0 innings without giving up a run on his way to earning the win.

Neither side was able to score in the first inning but the Dutchmen exploded for four runs in the second. Logan Beard (Louisville) opened the scoring, crossing the plate on an error. Albany added to that thanks to a knock by Jack Peterson (Trinity) to make the score 4-0.

Will Stroud (Azusa Pacific) led the way for the offense on the day for the Dutchmen. He went 3-5, highlighted by a home run in the third inning to make things 5-0.

After the Dutchmen tacked on another run to make things 6-0, the Outlaws got on the board in the bottom of the sixth when Baylor Cobb (Tulane) drove in two runs on a hit to make things 6-2 off of Ryan Yerby (RPI).

Stroud then scored his second run on the day in the top half of the seventh, scoring on a passed ball to extend the lead to 7-2. After the Dutchmen tacked on another run, Stroud then drove in Peterson on a single in the eighth to make the score 9-2.

Connor O'Neil (Manhattan) then came on to pitch for the Dutchmen in the bottom of the ninth. He shut the door on the Outlaws to make the win official.

The Dutchmen will have Thursday off before returning home on Friday, June 18 to face the very same Oneonta Outlaws at 6:35 pm.